Arajet arrives in Toronto and becomes the first airline with direct scheduled flights to Canada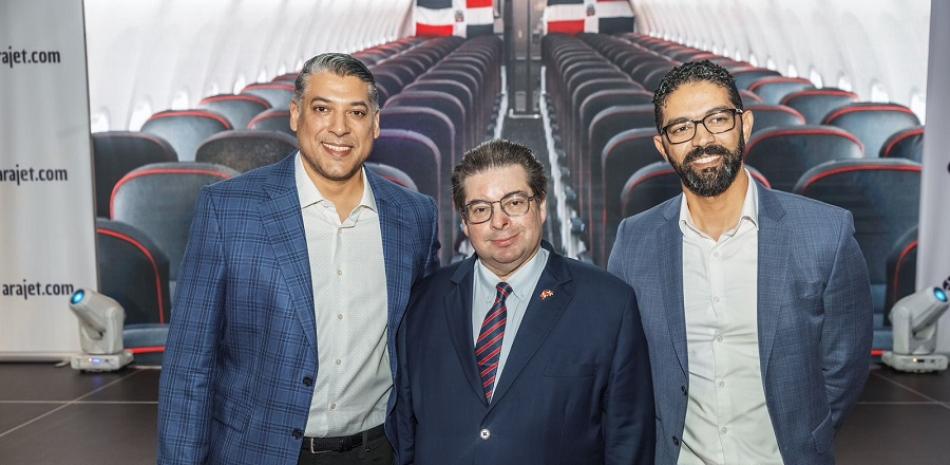 Víctor Pacheco, Frank Hans Dannenberg Castellanos, and Khalil Lamrabet.EXTERNAL SOURCE
Toronto.- Arajet, the Caribbean low-fare airline, officially launched operations in Canada with direct flights between Toronto and Santo Domingo in the Dominican Republic and became the first to fly directly from Pearson International Airport to Las Americas International Airport.
Arajet launched its routes to Canada with an inaugural event at the X Hotel in this city, where they presented the largest drone show in the sky ever held in Toronto. The airline will fly from Toronto four days a week (Tuesdays, Wednesdays, Fridays, and Saturdays), increasing air connectivity between the two countries.
"Today, Arajet makes history by being the first Dominican airline to fly regularly to Canada, providing new opportunities to grow business and tourism between our two nations," said Victor Pacheco, founder and CEO of Arajet. "Arajet also establishes Santo Domingo as an exciting new Hub on the continent for Canadians, connecting them to more than 10 countries in the Americas, such as Brazil, Argentina, Chile, Curacao, Aruba and Colombia, with a low-fare airline that does not compromise on service and customer experience."
The Ambassador of the Dominican Republic to Canada, Frank Hans Dannenberg Castellanos, said, "The inauguration of this new air route by Arajet, S.A. "is not only a business achievement but also a significant step in the interconnection between Canada and Latin America." region, as it will strengthen mobility between Canadians and Dominicans, at competitive prices."
"We are delighted to be the first part of Arajet's expansion into the Canadian market," said Khalil Lamrabet, chief commercial officer of the Greater Toronto Airports Authority. "This new route will link Toronto Pearson with a new level of connectivity in Central and South America. It is simply another way we are working to increase travel options for the millions of passengers who pass through our airport each year."
The event was held with the support of The Boeing Company, a strategic partner of Arajet, which has an order for up to 45 737 max eight aircraft with the U.S. manufacturer.
Arajet has an extensive route network of 22 destinations in 16 countries with more than 150 connections in North, Central, and South America, interconnecting the entire continent with the lowest fare and industry-leading operational safety. Arajet expects to carry more than 7 million passengers over the next five years through its Santo Domingo Hub, with increasingly convenient flights and fares to improve connectivity between the Americas and the Caribbean. Travelers can book their tickets at the best prices at www.Arajet.com.
Arajet is the first low-fare airline in the Caribbean region and began operations in September 2022 from its base at Las Americas Airport in Santo Domingo under its Dominican Republic Air Operator's Certificate (AOC). Arajet operates a new fleet of Boeing 737MAX-8 aircraft, providing safe and affordable travel to and from the Dominican Republic to 22 destinations in North, Central, and South America and the Caribbean region.