The 'other' Dominican attractions: At, fashion and designer shopping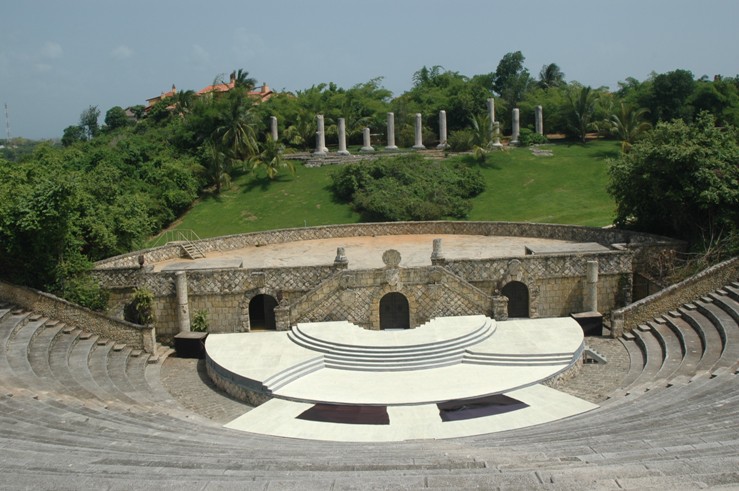 Altos de Chavon, amphitheatre. Next to Parsons school of design
Santo Domingo (GLOBE NEWSWIRE).- From locally handmade artisan crafts to couture clothing designed by some of the most renowned names in international fashion, Dominican Republic is a mecca for one-of-a-kind shopping experiences that appeal to art aficionados and fashionistas alike.
Dominican art has a long history dating back to the Taíno Indians who first inhabited the island. Today some of the world's most revered artists and fashion designers hail from Dominican Republic, including the late fashion designer Oscar de la Renta and modern fashion icons Jenny Polanco and Jacqueline Then.
"Dominican Republic has a rich tradition in the arts and fashion industries," said Magaly Toribio, Marketing Advisor for the Dominican Republic Ministry of Tourism. "We are proud of our artistic heritage, and visitors to the island will be enchanted by our unique offerings in both the visual and performing arts."
Art Inspired by Local Materials
One of the country's longest-standing artistic traditions is jewelry made of amber, larimar, bone, horn, and coconut husk, to name a few. Amber is incredibly popular among artisans, since Dominican Republic produces a large percentage of amber used in jewelry around the world. Amber is a fossil resin produced from trees and is one of the country's most beloved gemstones. It's recognized for its rich honey and blue colors that produce beautiful, sought-after jewelry.
Larimar is a rare blue stone and a local treasure found only in Dominican Republic. Beautiful, rare larimar jewelry is sold by artisans across the country. Other traditional crafts are made with materials including clay, porcelain, wood, gold, silver, coral, leather, hemp and guano, which serve as the base to create diverse items for personal, decorative, domestic and religious use.
Pottery and ceramics have also been popular since the arrival of Spaniards to Hispaniola. Currently, there are two different forms of pottery popular in Dominican Republic: items made by the potter's wheel and hand-made Taino themed ceramics. The Taino pottery and ceramics are made by hand primarily in the areas of Jarabacoa, La Vega, Los Calabazos and Guaigüí today.
Woven sisal fibers are also native to the country, dating back to the early stages of tobacco production when communities made hats for working in the field. These fibers are used today for weaving souvenirs, brooms, tote bags for picking coffee, baskets and more. Other natural fibers such as coconut coir, which consists of everything between the shell and the outer coating of the coconut seed, and plantain leaves are used for weaving artisan items like decorative dolls, lampshades and curtains.
Coconut shells, known as jícara de coco, are used for making beautiful artisan goods, including costumes for religious celebrations, coffee cups, ashtrays and more. Lastly, locals will use gourds as a source for creating costume jewelry. Used primarily by those living in Santo Domingo, these painted, decorative gourds are popular among tourists for their bold, unique look.
Art, Shopping and Cultural Events in the Cities
In the capital city of Santo Domingo, visitors will discover the heart of the country's art, culture and fashion scene. Santo Domingo's Palacio de Bellas Artes, founded in 1956, is a neoclassical theater that houses the School of Visual Arts, the National Folkloric Ballet, the National Choir, National Symphony Orchestra and other nationally-acclaimed performing arts groups. Santo Domingo also boasts an impressive number of museums, historic sites, monuments, music and more.
Visitors will be swept off their feet by the romantic Colonial City, which is the original site of the first city of the Americas and has been designated a UNESCO World Heritage Site. As you wander through the charming cobblestone streets of the Colonial City and admire the architecture dating back to the 16th century, it's easy to understand why the historic city is a source of inspiration for both local and visiting artists.
Fashionistas will fall in love with the capital for its thriving shopping scene, which features high-end brands such as Armani Exchange, Massimo Dutti and Carolina Herrera. This fall, Dominicana Moda—the country's leading fashion event—will be held at the historic Hodelpa Nicolás de Ovando Hotel in Colonial City this Oct. 18-21. During the four-day event, national, international and emerging designers will showcase their designs at the highly anticipated fashion event.
World-class shopping is also abundant outside of the capital. The Blue Mall Punta Cana on the island's east coast offers an ideal shopping experience for visitors staying in one of Punta Cana's luxurious all-inclusive resorts. The mall features more than 100 stores and restaurants, with popular brands including Zara, L'Occitane, Springfield, Nike and more.
In between Punta Cana and Santo Domingo, the beachside town of La Romana is a luxurious hot spot that regularly draws celebrity visitors including Beyoncé and J. Lo. La Romana is also a celebrated destination for art, design and shopping. Within La Romana sits Altos de Chavón, a replica of a 16th century village set in the hills overlooking the Chavón River.
While strolling through the picturesque village, visitors can peruse original pieces of art, ceramics, pottery, jewelry and more in the Art Gallery, featuring work from notable Dominican artists and other artists from around the globe. Altos de Chavón is also home to the Altos de Chavón School of Design affiliated with the Parsons School of Design in New York and named one of the top 13 design schools in the world by V Magazine.
The school nurtures artistic talent across genres, providing classes in areas including fashion, fine arts and interior design at its La Romana and Santo Domingo campuses. Whether you're an artist or simply an admirer of the arts, Altos de Chavón is a can't-miss destination for artistic inspiration set against a breathtaking backdrop with views of the Caribbean Sea.
To learn more about Dominican Republic's offerings in artisan crafts, the arts and fashion, visit www.GoDominicanRepublic.com.