Exporters unveil Export Guide for companies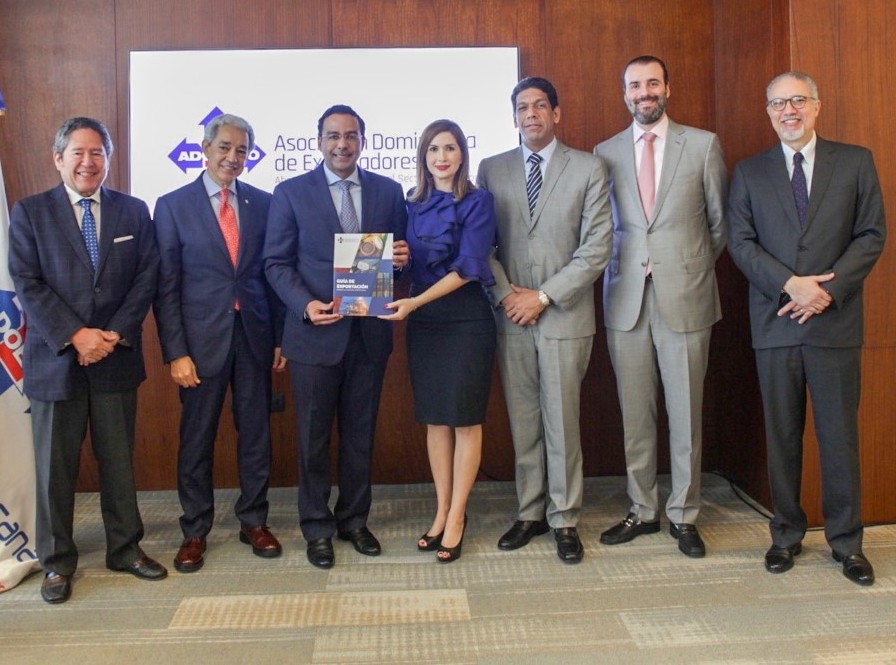 O. Miniño -c-
Press Release
Santo Domingo, RD.- The Dominican Exporters Association (Adoexpo) on Mon. unveiled the "Export Guide: Join the export culture," a unique publication that provides guidance on processes, procedures, plans, free trade agreements, access to international markets and relevant information to be successful in this activity and to be more competitive.
The event was held at the Epic Center in Santo Domingo, with the participation of the Executive Vice President of Adoexpo, Odile Miniño Bogaert, and was headed by Luis Concepción, president of that entity.
Also Yahaira Sosa, vice minister of foreign trade of the Ministry of Industry and Commerce (Mic); Ignacio Méndez, vice minister of promotion of MSMEs; Marius De León, director of the Export and Investment Center of the Dominican Republic (Cei-RD); Alma Fernández, director of Proindustria, exporters and special guests.
Miniño stressed that exports are not only a source of growth and profitability, but also guarantee the survival of companies in the long term. She said the opportunities in said market in an increasingly connected world should be seized.
Adoexpo's Executive Vice President stressed that this guide is a tool for companies wishing to venture into international markets, allowing them to have accurate information to be more competitive, have greater access to consumers in other destinations and know the procedures to perform export operations in a successful way
"Faced with the imminent and accelerated opening of new markets, the country has the challenge of becoming increasingly competitive, which involves strategies to promote exports, supporting companies to add more and more value to their exportable offer and promoting the necessary instruments that guarantee compliance with the requirements of global markets," she said.
"Yes I definitely do believe that exports are an excellent way to meet the objectives established in the National Development Strategy, since countries such as South Korea, Singapore, Thailand and Chile are success stories of nations that have achieved prosperity and social development through exports," Miniño said.
She said that, within the framework of the export promotion year, Adoexpo makes available to the business sector the guide on general export steps, to take advantage of the trade opening, "which with this guide we offer the critical route to new exporters the already current possibility to refine and update their knowledge."
"The 'Export Guide: Join the Exporting Culture,' is the result of a collaborative effort resulting from many hours of work and dedication, has the sponsorship of Popular and Reservas banks, and can be obtained at no cost in the Adoexpo offices located in Casa de Exportador, on  Virgilio Díaz Ordóñez St.# 52, in the Julieta sector.
Website: www.Adoexpo.org.com.