Popular rises 8 positions within the 1,000 best banks in the world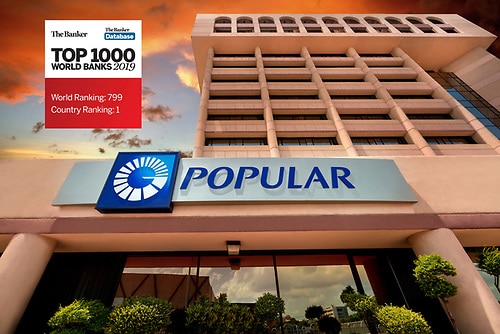 Banco Popular Dominicano continues its upward trend in the ranking of the British magazine The Banker, which brings together the 1,000 best banks in the world, according to its strength, size, solvency and financial performance, reaching position 799 n the latest edition, which means an improvement of 8 posts compared to last year.
For the magazine, Banco Popular "has registered a significant improvement" by entering the group of the best 700 banks in the world and maintaining its leadership as the first Dominican financial entity in this list.
In the last four years, Popular has climbed, gradually, more than 100 positions in this classification.
For this edition, The Banker analyzed the financial behavior of a total of 1,800 banks, located in 103 countries, from different regions and continents.
In order to ensure the quality of the selected entities, this banking ranking is not based on expert opinions. On the contrary, to maintain the criterion of objectivity, the Tier 1 Capital of the entities is analyzed, including ratios such as its financial strength, size, solvency, profit before taxes, return on assets and the performance of each one, among others.
According to the magazine, this ranking has been published for more than 40 years and is used as a benchmark for banking analysis by decision-makers in the financial world, such as financial directors, treasurers, institutional analysts, asset managers, and other investors.