PM's visit aims to relaunch Jamaica-Dominican Republic ties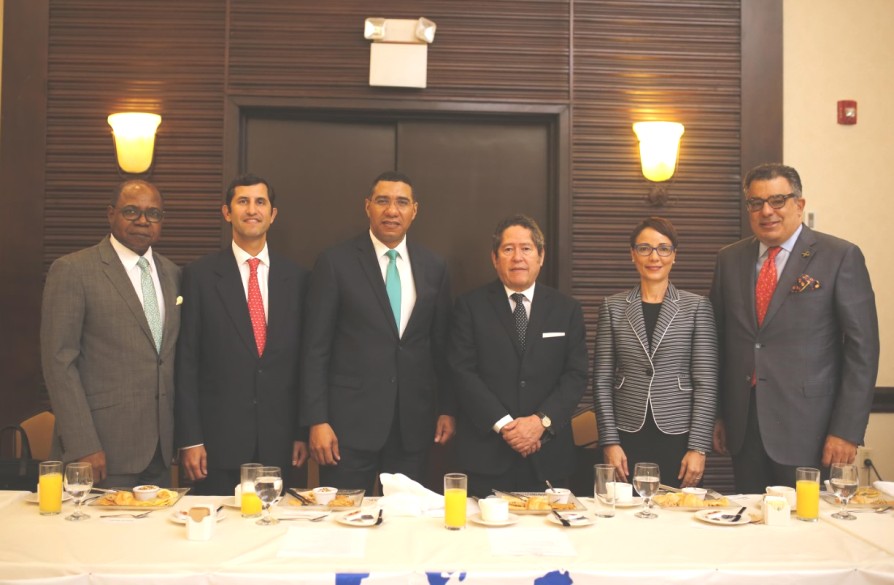 Edmund Bartlett, Roberto Herrera, Andrew Holness, Fernando González Nicolás, Kamina Johnson Smith, Enrique De Marchena.
Santo Domingo.- The visit by Jamaica prime minister Andrew Holness will relaunch bilateral ties with Dominican Republic and the rest of the Caribbean, while the US$103.0 million in trade last year makes the island nation one of the region's main business partners.
Fernando Gonzalez Nicolas, president of the Roundtable of Commonwealth Countries in the Dominican Republic, made the statement Tuesday in a private meeting with Holness and Jamaican and Dominican business leaders at Hotel Sheraton.
He said views were exchanged with business leaders and to be apprised on the ways Holness' government can help boost trade and investment.
Gonzales said the visit reveals the Jamaicans' interest in bolstering political and trade relations with the Dominican Republic.
He said there are significant Jamaican investments in the country in the financial and agribusiness sectors, citing JMMB Bank and banana exporter Jamaica Producers, located in the Northwest, whereas among the Dominican investments in that nation include fertilizers and the biggest private power plant.
"It is important to remember that Jamaica is a member of the Commonwealth, that the Dominican Republic also participates with that nation in CARIFORUM, the Association of Caribbean States, among other associations," said the president of the Roundtable.
Among the personalities in the meeting with Holness figured Hotels and Tourism Association (ASONAHORES) president Joel Santos, Electrical Industry Association (ADIE) president Roberto Herrera, Dominican Agribusiness Board (JAD) executive director Osmar Benítez , and Punta Cana Group vice president Simón Suárez.
Also JMMB Bank general manager Guillermo Arancibia, Metro Group CEO Luis Asilis, Exporters Association (ADOEXPO)  president Álvaro Sousa, Magna Motors CEO Avelino Rodríguez, among other business leaders, Roundtable members and diplomats.
Jamaican delegation
The delegation headed by Holness included Jamaica Foreign minister Kamina Johnson Smith, Tourism minister Edmund Bartlett; Nigel Clarke, economic affairs ambassador Aubyn Hill, among others.