Industries reject 70% of locally-produced milk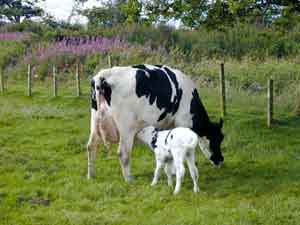 The calf doesn't mind
Santo Domingo.- Despite domestic milk producers' efforts with funding from international organizations such as the UN Food and Agriculture Organization (FAO) to improve the dairy production chain, a recent report by the Economic Commission for Europe Latin America and the Caribbean (ECLAC) found that 70% of the milk produced on Dominican farms isn't suitable for industrial processing.
The ECLAC report "Strengthening the value chain of dairy products in the Dominican Republic" says that reality leads a major imbalance among the producers' need of sales and the demand for supply by the medium and large Industry.
The study notes that despite an improved dairy cattle ranching, there's a relative lack of continuity regarding the most suitable type of cattle, "which makes it difficult to guarantee quality and sustainable production."
"Because most of the country's milk production is based on family farms (90%), consisting of small farmers with less than 50 head of cattle, of which 65.5% operate with less than 10 heads, they count with only very basic technology in their farms to operate," the ECLAC report said.