High time to talk trade with Haiti: Dominican businesses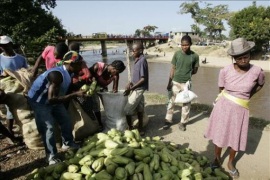 Masacre river, Haiti side, vendors
Santo Domingo.- The head of Dominican Republic's chambers of commerce grouped in Fedocámaras on Tuesday said the private sector is willing to hear the Haitian authorities' reasoning behind the new ban on Dominican products.
Claudio Fernandez said the measure isn't "rational" if it' based on concerns over plant and animal health and food safety, since the products that are exported to Haiti in his view are of high quality.
He called Haiti's rules on trade with Dominican Republic aren't stable and stressed that no other country withstands the frequent back-and-forth of the ban which jeopardizes Dominican exporters.
He urged the Foreign Ministry, together with the private sector and authorities on both sides of the border, "to seek a sincere and open dialogue that would put an end to the constant prohibitions."
Fernandez revealed that a high-level commission of the Dominican poultry sector recently met with Haitian business leaders who manage the chicken trade.  "There once again was awareness of the quality of the birds we supply to Haiti, including frozen chicken. Haiti has a deficit of 75% in the supply of chickens which we can supply without major difficulties from here."
He said Dominican business leaders want formal transactions with Haiti, clear rules and mutual benefit, to contribute with the neighboring country's need to raise revenue. "We want business for everyone, especially for the small and medium entrepreneurs of both countries that forms the basis of the business fabric of the Dominican Republic and Haiti."
"I hope that the talks between the private sector and the authorities of the two nations will not simply remain as good intentions, and will materialize without further delay instead," Fernandez said.