Time to 'get serious' on Dominican Republic-Haiti border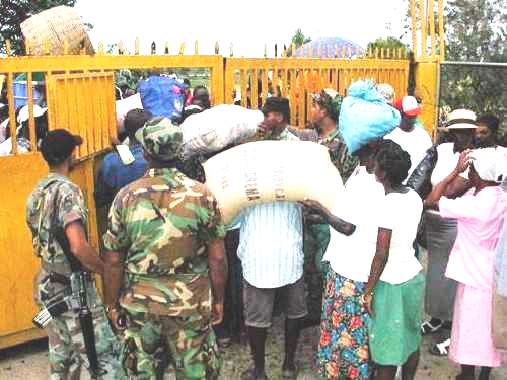 Santo Domingo.- As long as corruption at border crossings continues and the military take money to allow illegals to enter the country, the President's announced security measures won't have any effect.
The same is true if the Government fails to promote the Plan to Regularize Foreigners and employers do not stop hiring cheap Haitian labor.
The backdrop was explained Thurs. by Benigno Toribio, of the think tank Juan Montalvo Center; Joseph Cherubín and Antonio Pol Emil, of the Socio-Cultural Movement of Haitian Workers, and of the Haitian Dominican Cultural Center.
"Putrid" Checks
They affirm that the many military, cameras and drones don't solve anything along the border.
"It is not more military or helicopters, the problem is to end the scourge of corruption that exists at border crossings," said Toribio.
He said there are organized groups of traffickers, both Haitians and Dominicans, who recruit and transport illegals in SUVs and buses, and have to go through the checks, "but these are rotten."
He revealed that the groups charge up to RD$150 per service. "It's an unfortunate situation."
Toribio said the people will not be afraid of drones or cameras and reiterates that serious controls are needed and those involved in the business must be punished.
For Cherubín, president Danilo Medina has the right to take the measures he understands are needed, but affirms that the "chain of Haitian migration is the result of hiring of day laborers."
Pol agrees, and called the migratory phenomenon complex. "They are powerful entrepreneurs who are involved in the contracting, in addition to the fact that the situation got out of hand with the Government."
Regulation
Cherubín said there's no such thing as a Regularization Plan for Foreigners, because of the 285,000 registered immigrants, only 8,000 have obtained a status.
On Thurs. the Immigration Agency announced the start of the renewal or change of category for foreigners registered in the Regularization Plan to continue on to the ordinary regime renewing or changing the migratory status.
Process
-1- Non-residents
As of Monday, March 5, the foreigners should go to the Rafael Damirón street office behind Immigration officers, from 8am. to 4pm.
-2-Category
Those who have a 2016 card expired from Santo Domingo and Monte Plata provinces.
-3- Requirements
To change the immigration status, foreigners must present a passport or passport with a 'sticker', legalized birth certificate, address in the country, etc.