Police's kudos for ICE HSI in Santo Domingo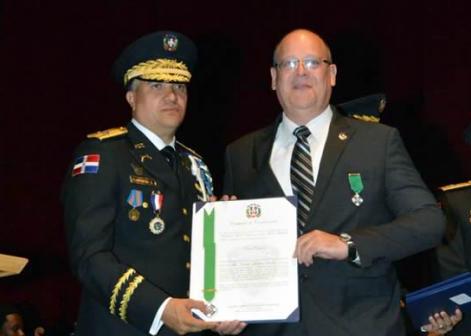 N. A. Bautista, Josean Santiago
Santo Domingo.- On March 2, 2018, U.S. Immigration and Customs Enforcement's (ICE) Homeland Security Investigations (HSI) Santo Domingo Country Attaché Cesar H. Cabrera and HSI Representative Josean Santiago were awarded the Medal of the Order of Police Merit by the Dominican Republic National Police.
Dominican Republic President Danilo Medina issued Presidential Orders honoring Cabrera and Santiago for their "outstanding contribution to the Dominican Republic National Police in their fight against the Organized Crime that is affecting the Dominican Republic and the United States."
The declarations were granted on commemoration of the 82nd Anniversary of the Dominican Republic National Police Uniformed Corps creation.
The General Director of the National Police, Major General Ney Aldrin Bautista, led the recognition ceremony of HSI special agents, police officers and military officers for their superior performance in the exercise of their duties and excellent preventative work with society.
The event was held at the National Theater where both honorees and guests enjoyed classical musical selections from the National Youth Orchestra of Santo Domingo.