The vaccination of children is reactivated in Santo Domingo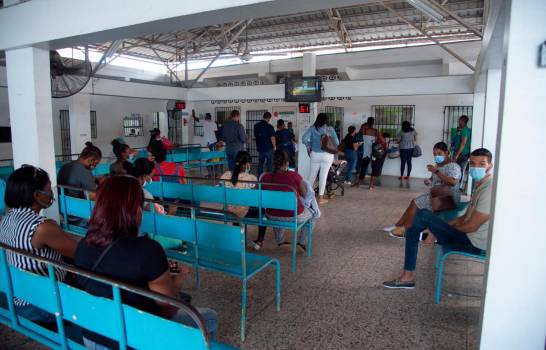 People wait to be inoculated at a vaccination center. (DANIA ACEVEDO)
The director of the children's hospital, Robert Read Cabral, admitted that due to the COVID-19 pandemic, there were mothers who interrupted their children's vaccination schedule, but they are already catching up.
"There were problems in the vaccination, everyone knows it. Everyone focused on the pandemic and it is very natural that these things took a backseat," said infectious physician Clemente Terrero.
"We have already reactivated a lot, there is probably still more to be reactivated," he added.
Asked if a campaign is needed for essential early childhood vaccines including tuberculosis, rotavirus, polio, pneumococcus, measles, rubella, mumps, and the fivefold protection of the pentavalent vaccine against diphtheria, tetanus, pertussis, hepatitis B, and influenza B, the doctor stated that a campaign is not necessary because "we already have the national structure, what we have to do is rehabilitate it."
Sinovac favored for children
"We completely agree, we defend this vaccination. It is a necessity," emphasized Dr. Terrero on the consensus that approved the inoculation against COVID-19 in children from 5 to 11 years old.
Regarding his preference to start vaccinating now with Sinovac, which is the one currently in the country, or to wait until March 2022 for the Pfizer vaccines to arrive with the appropriate dose suitable for an infant, the doctor said that he favors Sinovac because "the dose used in adults is used in children "and" it is also a vaccine composed of inactivated viruses that do not produce significant side effects."
Vaccinated increase
According to Alvin Johnson, who has worked at the Galván Street vaccination post for 31 years, one of the few national centers in operation, it closed only for a week.
Although vaccination at a general level fell, the number of daily visits increased at that center.
"We have tickets that go up to 100 and sometimes we repeat up to 3 times, that is, we serve about 300 people in one day. As for the daily vaccine doses we administer between 500 and 600, this is because a single child can receive up to four vaccines in one visit," said Johnson.
Nicole Batlle, director of the Expanded Immunization Program (EPI), said that 385,624 doses of pentavalent vaccine had been applied so far this year.