Ex-president of DNCD turns himself in for death of entertainer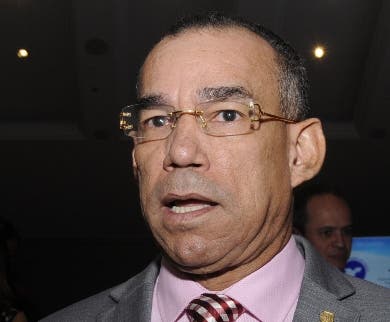 Vice Admiral Felix Alburquerque Compres.
Vice Admiral Felix Alburquerque Comprés went last night to turn himself into the Public Prosecutor's Office for the death of Los Leones de Escogido cheerleader Manuel Duncan after an alleged argument at a fast food stand in the capital early yesterday morning. The victim leaves behind three orphaned children.
The vice admiral went to turn himself into the District Attorney's Office after an arrest warrant was issued against him. The Attorney General's Office (PRG) confirmed the information to this newspaper as the authorities identified him as the person who killed the communicator.
The version of the vice admiral
During a brief interview granted to journalist Priena Almonte after the incident, Alburquerque Comprés said that the incident happened because Duncan assaulted him with blows to his face and side.
"I don't know why that happened. Supposedly catchup splashed on his shirt, he saw me laughing and understood that I was making fun. It was a beating he gave me," he said.
Alburquerque Comprés said that although someone separated him, Duncan came back on top of him, "which led him to lose his mind."
Manuel Duncan
In the investigations for the death of Duncan, the Police interrogated six people who, at the time of the fact, were in the place of sale of food, located in the Rómulo Betancourt Avenue, on the corner of Núñez de Cáceres.
The Police indicated that the murderer escaped from the place aboard a Mercedes-Benz after killing the 45-year-old communicator, also CEO of Daiskep Consulting Agencia BTL.
The video of the event
Duncan's death was much commented on the networks all morning when versions circulated the fact and a video showing how he was shot twice.
In a WhatsApp audio, Duncan's sister explained to a friend that the commentator was eating a hot dog when he got his face dirty, and someone laughed at what happened. This provoked an argument, for which Duncan hit the gentleman who had laughed at him.
He says that the assaulted person went to his vehicle to get a firearm, at which Duncan and a friend accompanying him ran to hide.
He maintained that 'el señor' went in search of both, and when he found Duncan, who wanted to defend himself, he shot him. He said the communicator fell to the ground, and the murderer finished him with another shot.
Alburquerque Comprés
Felix Alburquerque Comprés, 59, assumed the presidency of the DNCD in 2019, following the resignation of Major General Jose Matos de la Cruz.
He was born in Sabana Grande de Boyá, Monte Plata. He holds a degree in Naval Sciences from the Naval School, with the rank of Ensign of Frigate Navy. He rose to the rank of Vice Admiral.
He was representative of the Armed Forces of the Dominican Republic to the United Nations Organization.