Regret in the scientific community for the sudden death of manatee Juanita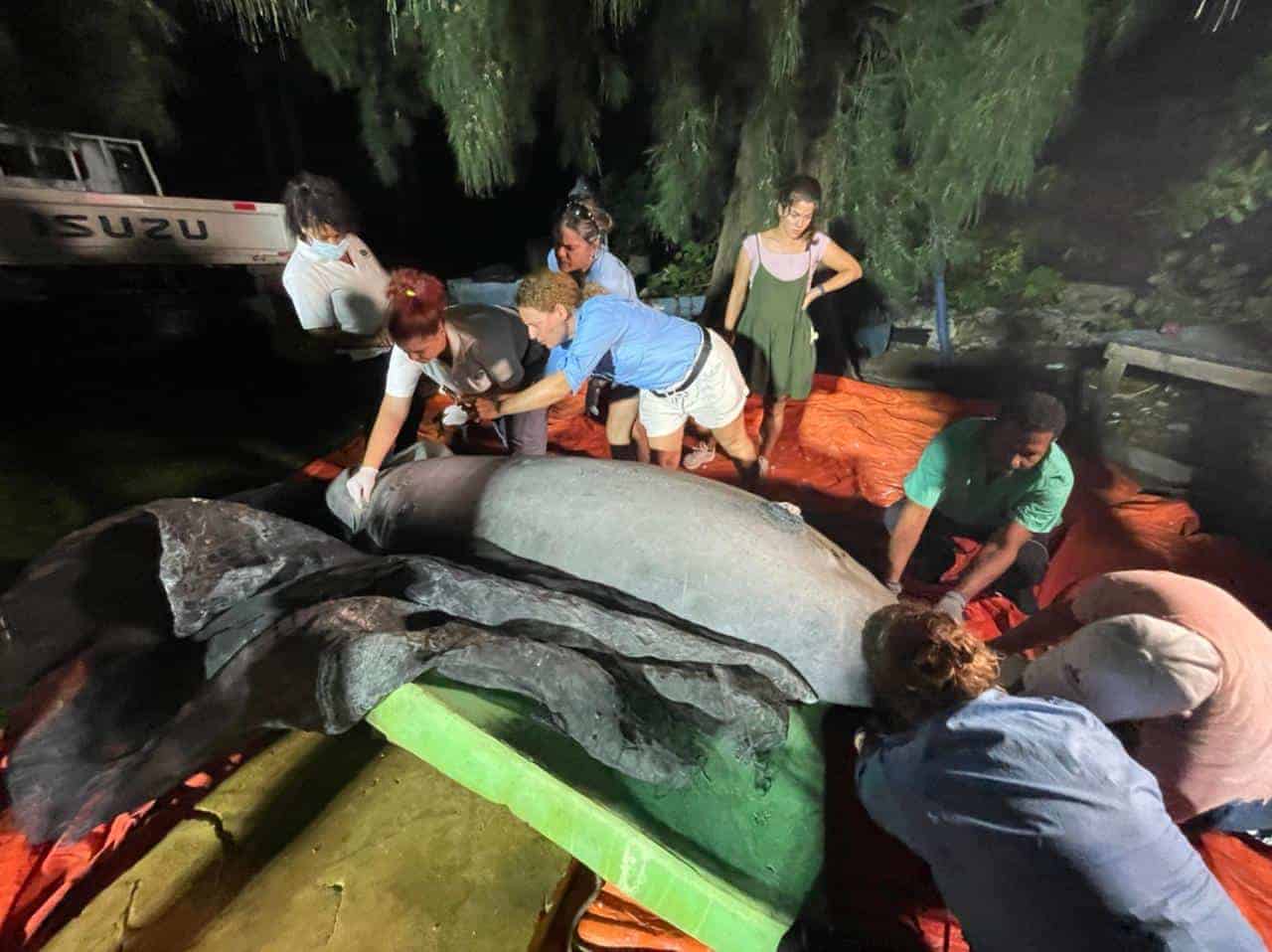 Juanita's body was taken to the National Aquarium for a necropsy. ( MARVIN DEL CID )
Part of the scientific community of the Dominican Republic and all the people who followed her from her captivity until her release are mourning the death of the manatee Juanita. She was found dead on Saturday afternoon in the Isabela River, Santo Domingo.
The necropsy determined that Juanita died of a fulminant infarction and an obstruction in the pulmonary artery, despite the fact that plastic and latex gloves were found inside her intestines, which were insufficient to cause her death.
A multidisciplinary team of veterinarians and technicians from the National Aquarium, the Ministry of Environment, and the Dominican Foundation for Marine Studies (Fundemar) participated in the process, an entity that had been following the manatee since December 2020 when she was released along with Pepe and Lupita.
After her release, Juanita settled in the vicinity of the Ozama and Isabela rivers, where, in January 2022, Juanita survived an attack by unscrupulous individuals who trapped and assaulted her in the vicinity of the Ozama River, but this time it was confirmed that it was a natural death.
For their release, the team of the National Aquarium, Environment, and Fundemar taught them to eat sea grass and look for fresh water. To give them GPS tracking, they sent signals every day to the monitors. For the first weeks, the three animals were kept in the area of Bayahibe and Saona Island.
The Minister of Environment, Miguel Ceara Hatton, and the president of Fundemar, Rita Serralles, went to the research center.
Plastic remains were found in Juanita's intestines (MARVIN DEL CID).
Blood, tissue, and organ samples were taken to know the reason, and the results will be reported in the next few days. Ceara Hatton said that, although he did not have a link with Juanita and her companions, since he recently assumed the position at the Ministry of the Environment, he did know the story and was very happy when the animals were released.
NATIONAL
Juanita manatee found dead in the La Isabela River
Juanita, along with the manatees Pepe and Lupita, became famous and won the affection of scientists and part of the population that followed her release on Sunday, June 27, 2021, after being in the National Aquarium for several years.
Fundemar highlighted in its networks that the manatee fell in love with every community visited, from Bayahibe to Santo Domingo. The National Zoo also lamented the death of Juanita, whom it described as the "pretty girl" of the park.
About Pepe and Lupita
Regarding the other manatees, Lupita passes between Bayahibe, Saona Island and Boca de Yuma.
While Pepe has been in Bayahíbe, Chavón river, and Salado river. At the end of 2021, it was reported that she lost weight and forced the scientists to intervene in her feeding until she regained her body mass.