Dominican Republic Finance Ministry steal soars to US$545.5M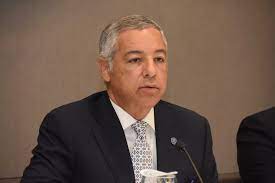 D. Guerrero.
Santo Domingo.- In its request for authorization of financial information made before the Investigating Court of the National District, the Specialized Prosecutor for Administrative Corruption (Pepca), establishes that the Ministry of Finance, during the administration of Donald Guerrero, released payments that did not go through legal controls, since they do not appear in the records of the National Treasury.
Based on data from a report by the Anti-Fraud Unit of the Comptroller General of the Republic and which, it says, has been corroborated with other means of evidence, the body affirms that there are very marked differences between the orders that appear registered and paid.
"From the Ministry of Finance, 30 releases were paid during the period from January 22 to July 27, for an approximate total amount of 10,993,120,387.60, while the National Treasury certifies releases for an amount of 5,636,093,821.14, for a difference of about RD $6,431,438,750.41. (This last figure denotes a calculation error since the difference between the first two is 5,357,026,566). The sums total at least RD$30.0 billion (US$545.4 million).
The difference leads Pepca to establish that the Ministry of Finance made direct payments without being subjected to the prior control process established by Law 10-07 of Internal Control of the Comptroller.