Earth tremor of 4. 7 recorded early this Sunday morning in Higuey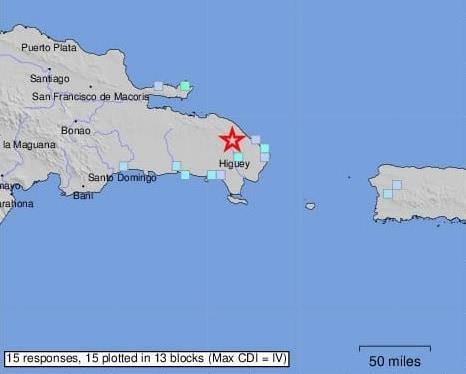 Image taken from the United States Geological Survey (USGS) website. ( EXTERNAL SOURCE )
An earthquake was recorded early this morning in the municipality of Higüey, La Altagracia province, as reported on the website of the United States Geological Survey (USGS).
The telluric movement was registered 13 kilometers from La Otra Banda, at the point on the horizon between north and northeast.
According to USGS data, the earthquake was 4.7 with a depth of 119.0 kilometers.
Likewise, it reported that Universal Coordinated Time occurred at (4:00 UTC), which would be 1:05:39 Dominican time.
They felt the movement.
Several people who felt the tremor reported through social networks that it was very strong.
On Facebook, Mariela De La Rosa explains that "whoever did not feel it was dead in bed because it was terrifying; the windows of my apartment looked like they were going to fly open."
Meanwhile, Luz Cedano said that with this morning's earthquake, the bed in her house moved abruptly.