Dozens of motoconchistas protest police abuse in front of the National Palace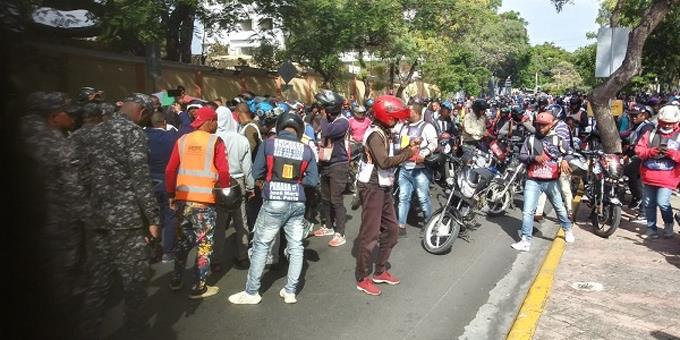 Source: External
With banners in hand and under the morning sun this Friday, dozens of motorcyclists from different distinctions of the National District are holding a protest in front of the National Palace demanding that police abuses stop. Alberto Ramirez, a motoconchista for 18 years, claims that "the police take the imprisoned engine from you, regardless of whether you have your documents," and that the detachment then sends it to the General Directorate of Transit and Land Transportation (Digesett). The protesters claimed that uniformed officers seized their motorcycles even though they were wearing helmets and had valid documentation.
"We are demanding that the government speak with the Director of the Police because the police have us in constant anxiety, having documents or not having documents," one of the protesters, Pedro Reynoso, said. Reynoso stated that even though they have insurance, vests, and their stop registers documents to ensure that each driver has a valid license, "as they wish, they are taking the motors to the police stations. The motoconchistas are indignant because they claim to be parents and that this trade is their primary source of income.
"They take us to jail just because, why not, and just in case, we're completely legal and we're just working," said Rigoberto Sánchez, a motoconchista with the Los Rios stop for nine years.