Judge authorizes embargo for RD$445 million in favor of the State in the case of Alexis Medina and others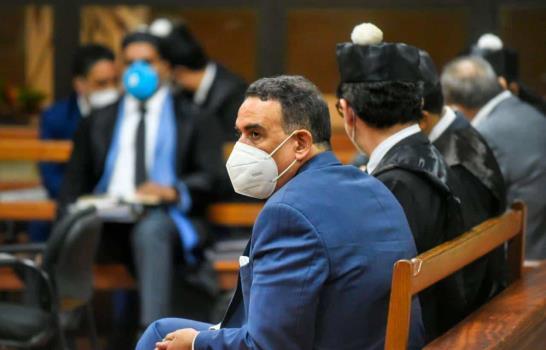 The Seventh Investigative Court of the National District authorized this Wednesday the embargo of 445 million pesos in favor of the State and against the defendants in the corruption case, in which Juan Alexis Medina Sánchez appears as the ringleader (formerly known as Operation Antipulpo). The decision was made by Judge Deiby Timoteo Peguero, who also ordered that all those involved who did not reach an agreement with the Public Ministry be sent to trial on the merits. He considered that real coercion has the purpose of withholding the funds for the hypothetical compensation of the State as a civil actor.
Jorge López Hilario, the representative of the Public Heritage Recovery Team (Erpp), appreciated that, for the first time, a decision has been issued that seizes assets and economic resources to compensate the State in legal proceedings. "For the first time in a criminal case for corruption, the judge accepted our factual theory that an economic group was formed and ordered real coercion measures to guarantee the eventual compensation agreed by the judge on the background," López added. Likewise, he clarified that these amounts indicated by the judge are not those that correspond to the compensation requested by the State, but the authorization to block the measure.
"Operation Antipulpo", is what the intervention has been called since last Saturday night and Sunday morning has brought 10 former officials of the last government in front of the Specialized Prosecutor's Office for the Prosecution of Administrative Corruption (Pepca). In "Operation Antipulpo", a group of prosecutors participated, who were in charge of directing the investigations in which dozens of agents of the elite troops of the National Police participated. Those accused of administrative corruption and "privileged suppliers and front men who took advantage of family ties to political power to accumulate fortunes" were transferred to the preventive prison that operates in the building that houses the National District Prosecutor's Office and whose security is under control of the New Penitentiary Management Model.
The list of accused is made up of Fernando Aquilino Rosa Rosa, former president of the Patrimonial Fund of the Reformed Companies (Fonper); the former Minister of Public Health Lorenzo Wilfredo (Freddy) Hidalgo Núñez and the former Director General of the Office of State Works Supervising Engineers (Oisoe) Francisco Pagán. In addition, Carmen Magalys Medina Sánchez, former vice president of Fonper; and Juan Alexis Medina Sánchez, both siblings of former president Danilo Medina.