Illegal Haitians attack immigration agents with stones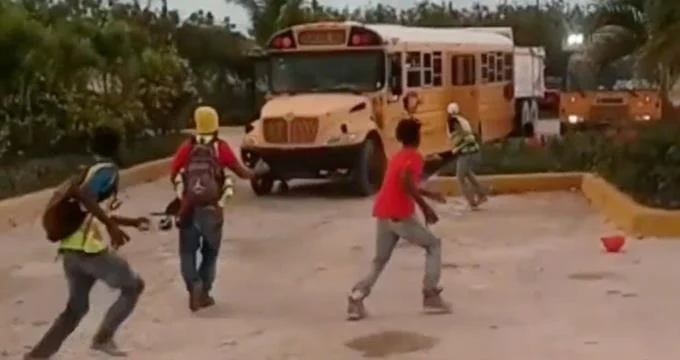 Undocumented immigrants attacked inspectors with stones.
Santo Domingo, DR
The Directorate General of Migration will deport 71 illegal Haitians and will submit 7 to justice after they were apprehended altering the order in public streets when they assaulted inspectors of the agency and police agents yesterday, after refusing to undergo routine checks in an incident that occurred in Punta Cana, in the province of La Altagracia.
The agency also informed that a group of undocumented Haitians who assaulted National Police agents, fled, and were later arrested in Cap Cana, are still under arrest.
He indicated that the Interdiction team of the General Direction of Migration intercepted a bus moving along the Punta Cana traffic circle. When it was stopped, they started to flee, which was immediately reported by radio communication to a patrol of the National Police, which intercepted the suspicious vehicle at the entrance of Cap Cana.
When the bus was stopped, migration indicated that the bus had dozens of illegal Haitian nationals on board, who started throwing stones at the migration members together with police agents who were part of the operation in the area of Punta Cana.
The immigration agents performed a routine operation when the occupants resisted stopping the vehicle with the foreigners on board.
The institution informed that eight Haitians would be submitted to justice, with charges of alteration of the order in the public road and violations of the migration law in Dominican territory.
The Directorate General of Migration also informed that the incident occurred on the La Rotonda runway, at the entrance of Cap Cana, in the province of La Altagracia.
Evidence
After the incident, 78 Haitians were detained by the acting authorities 71 of them are being deported, and seven are being deported for illegal transit in Dominican territory and others.
The governing institution of migration in the country affirmed that it has a video as evidence of what happened and warned that it would not accept alterations to the legal order in matters of migration in the country.