"Dominicacn Republic is the paradise of the Caribbean"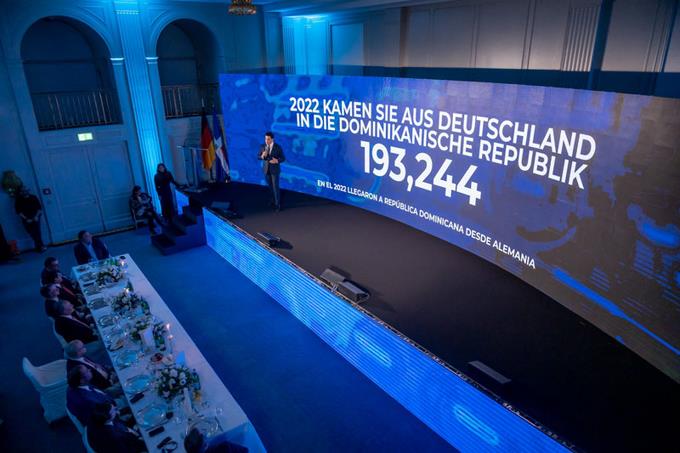 The Minister of Tourism, David Collado, presented to more than 250 tour operators and travel agents present at the ITB-Berlin Fair, the diversified tourist proposal of the Dominican Republic, in an effort to ensure that more tourists continue to visit the country. In the customary roadshow, Minister Collado showed the main tourism players who attend the ITB-Berlin fair why they should promote and encourage their clients to visit the Dominican Republic, a "country that has it all." "Today we are here, in the German capital, showing you why you should choose us as your favorite long-distance destination," said Collado, who called on travel agents, tour operators, and airline representatives to become promoters of the beauty of the Dominican Republic, "a true paradise in the Caribbean". 
The official thanked the loyalty of German tourists, who for years have chosen the Dominican Republic as their favorite long-distance destination. "For years the Germans have preferred our destination in the Caribbean and today I want to express my gratitude on behalf of the Dominican people, who have always given them their best smile," said the Minister of Tourism. Collado presented his roadshow in the German capital, on the eve of the ITB-Berlin tourism fair, which begins today with the participation of more than ten thousand companies from 184 countries. The ITB Berlin is the leading professional fair for the global tourism industry and will be taking place in the German capital from March 7 to 9, 2023.
In the "Roadshow" held at the Kempinski Berlin hotel, impregnated with technology, with videos and the zoom platform with representatives of various tourist areas, Collado said that he came to Germany to reconquer the Germans, to return to 265,000 visits. He introduced them to the different tourist areas and new projects such as Miches, Punta Bergantín, Santo Domingo, and Pedernales, among others. In addition, he spoke with people from the sector located in Macao, Punta Cana, and other areas with strong sun and beaches in the background, while in Germany "snow frost" and a light drizzle have fallen and it is cold.
Collado recounted the impact of the Covid-19 pandemic, at which time the world came to a standstill and the airports were closed, there were no flights, and the decision he made before the Ministry of Tourism (Mitur) and the Government to implement a strategy that allowed the recovery of Dominican tourism, which earned the country recognition, including several from the World Tourism Organization (UNWTO). The UNWTO recognized the Dominican Republic as the number one country in the world in the recovery of tourism.