Hard Rock Café in Santo Domingo was raided by DNCD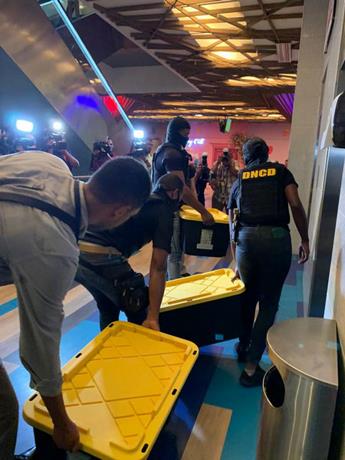 The Public Ministry and members of the National Drug Control Directorate (DNCD) completed their nearly four-hour-long operation at the Hard Rock Café Santo Domingo, which began in the afternoon and ended last night. The prosecutors, including Sourelly Jáquez, Miguel Collado, and Jonathan Pérez Fulcar, among others, did not provide any information regarding the operation upon leaving the restaurant. Although Prosecutor Miguel Collado had previously stated that information about the inspection would be provided after the surveys, no statements were issued upon leaving the café. During the raid, the DNCD agents and Public Ministry personnel transported six large black boxes and two small of cardboard, believed to contain some evidence obtained during the search.
On Monday at around 4:00 p.m., the Attorney General's Office, in coordination with the National Directorate for Drug Control, raided the Hard Rock Café Santo Domingo, located on the fourth level of the Blue Mall Plaza. The entrance was guarded by DNCD agents while the employees waited around the area. After the authorities finished their investigations, the establishment was closed at approximately 7:50 pm.
This operation is part of a larger operation against three foreigners requested for extradition by the Kingdom of the Netherlands, where they are accused of committing various crimes. The raid on the Hard Rock Café is not the only one taking place, as the "Los Gambinos" farm in Monte Plata is also being raided. The Attorney General's Office (PGR) and the DNCD arrested three fugitives who are linked to the criminal structures "Mocro Maffia" and "No Limit Soldier," accused of drug trafficking, arms trafficking, murder, and other crimes in the Kingdom of the Netherlands.