Baby manatee Jean Pedro progressing satisfactorily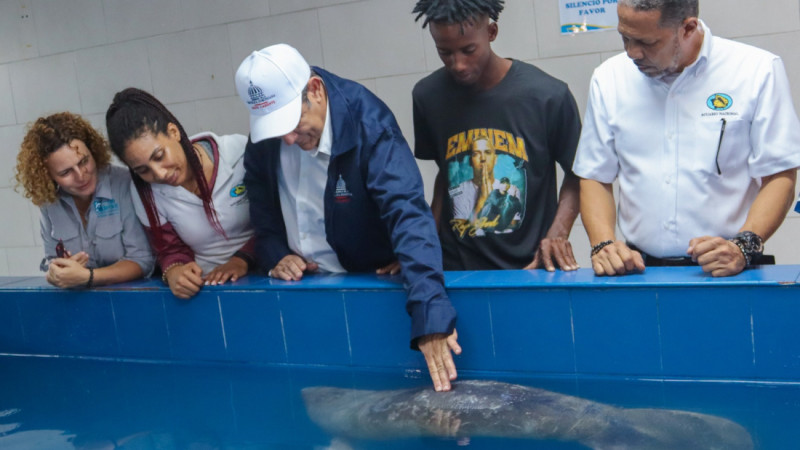 The Vice Minister of Coastal and Marine Resources, José Ramón Reyes, made an inspection visit to the National Aquarium, where the manatee is being cared for and confirmed that it is in good physical condition and is receiving the care required to be released.MIMARENA
Santo Domingo.- The Ministry of Environment and Natural Resources reported that the manatee Jean Pedro, which was found on June 16 on the coast of San Pedro de Macorís in the eastern Dominican Republic, is evolving satisfactorily and is already being fed with marine vegetation to facilitate its eventual reintroduction to its natural habitat.
The doctor of veterinary medicine, Nicole Fernández, who is in charge of the care of the Jean Pedro manatee, explained that the calf is evolving satisfactorily, increasing in size and gaining weight.
"The Jean Pedro manatee is being fed with a milk formula very similar to its mother's milk, created with animal and human powdered formula; it is also being supplemented with vitamins and minerals to complement its diet due to the lack of nutrients from the mother's milk," she said.
"From the age of 4 months, it has begun to be supplied with marine vegetation, and then it will be taken to its natural habitat," said Fernandez.
The Vice Minister of Coastal and Marine Resources, José Ramón Reyes, visited the National Aquarium, where it is being cared for and verified that the manatee is in good physical condition and receiving the required attention to be released.
"I am thrilled to see the Jean Pedro manatee evolving well. We call on all those who have activities in the oceans, whether coastal or sea fishermen, to inform the Ministry of Environment or the National Aquarium when they see a vulnerable manatee, " said the Vice Minister.
The vice minister gave fisherman Jean Carlos Villanueva a diving kit as a gesture of gratitude for helping the breeding and urged all Dominicans to follow this example to help preserve this species.
"For me it has been a very nice experience to be able to help a manatee; I had seen it before with the mother and I also know that this species is in danger of extinction. I am very grateful to the people from the ministry and the aquarium for the good treatment they have given me", expressed Jean Carlos.
Fisherman Jean Carlos Villanueva found the manatee last June 16 in San Pedro de Macorís. He reported the mammal's discovery to the Environment and the National Aquarium authorities.