Banreservas will provide facilities to customers affected by the explosion in San Cristóbal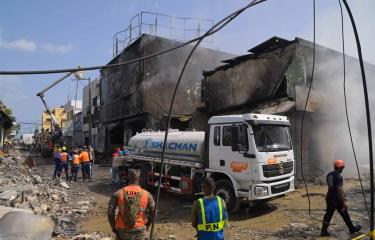 San Cristobal.- The Banco de Reservas has announced its introduction of a flexibility program for customers affected by the recent explosion in various shopping centers in San Cristóbal. To avail this support, clients can visit either the San Cristóbal office or the branch at Multicentro Sirena within the same town. The news was communicated through the bank's social media channels.
Starting from August 17th, the bank will be implementing special measures to assist its valued customers in the San Cristóbal province who have been impacted by the recent unfortunate incident.
The explosion in San Cristóbal has resulted in a tragic toll, with 11 confirmed fatalities, 10 individuals reported as missing, and 59 people sustaining injuries. Among the deceased is Jorgelina Ravelo Encarnación, an employee of Banco de Reservas, who held the position of Business Area manager.