Tropical Storm Katia forms in the Atlantic and Gert resists with strengthening intensity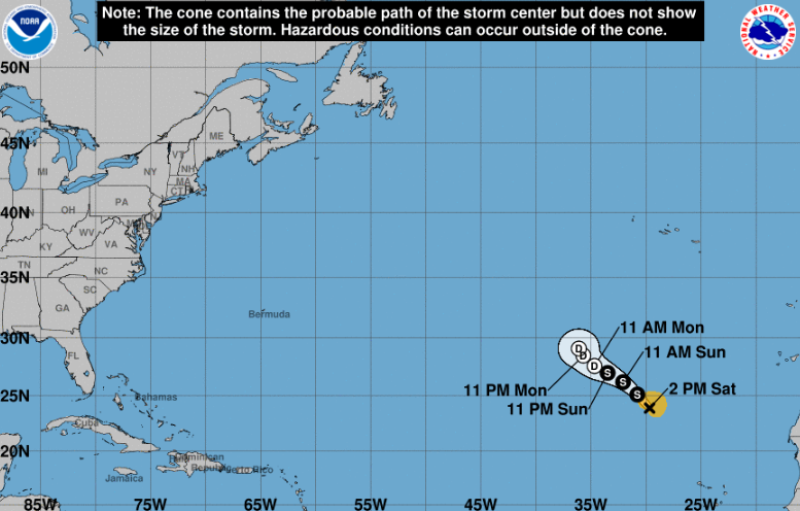 According to NHC forecasts, Katia will be short-lived and by Sunday afternoon could degenerate into a low-pressure remnant.NATIONAL HURRICANE CENTER
Saturday, the twelfth depression became the tropical storm Katia, which is expected to be short-lived, while Gert resists somewhat strengthened in the middle of the Atlantic, the U.S. National Hurricane Center (NHC, in English) reported the U.S. National Hurricane Center (NHC).
According to the latest NHC bulletin, Katia is located 630 miles (1,015 km) northwest of the Cape Verde Islands, near the African coast, and has maximum sustained winds of 50 miles per hour (85 km/h).
The storm poses no risk to coastal areas and moves north-northwest at 13 mph (20 km/h).
According to NHC forecasts, Katia will be short-lived and, by Sunday afternoon, could degenerate into a low-pressure remnant.
Tropical Storm Gert is barely moving but has strengthened in recent hours and is now packing sustained winds of 45 mph (75 km/h), although little change in intensity is expected from now on.
Located 705 miles (1,130 km) east-southeast of Bermuda, the NHC forecasts that on Monday, Gert could be absorbed by the post-tropical cyclone Idalia, which is still impacting that British territory.
Idalia, which on Wednesday entered as a major hurricane over northwest Florida and crossed the southeastern U.S., is producing tropical storm conditions in Bermuda, where it is expected to generate up to 75 millimeters of rain over the weekend that could cause flash flooding in parts of this island territory.
According to the NHC, Idalia, 55 miles (85 km) southeast of Bermuda, could develop into a subtropical storm this afternoon.
Idalia's tropical storm-force winds extend to about 220 miles (350 km) from its center.
After landfall on the western tip of Cuba, Idalia made landfall as a Category 3 hurricane in the region known as "Big Bend," a rural area off the northwest coast of Florida, and then impacted Georgia and the Carolinas.
While Idalia did not cause devastating damage after making landfall, it did leave hundreds of thousands of homes without power in these states, and streets and waterfronts flooded with heavy rains, destructive winds, and storm surges.
U.S. President Joe Biden will visit the hardest hit areas in Florida today to assess the damage.