Intrant, Digesett and ADN began a plan to clean junk vehicles and booths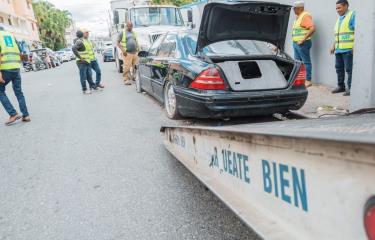 The National Institute of Land Traffic and Transportation (Intrant), along with the Mayor's Office of the National District and the General Directorate of Traffic and Land Transportation Safety (Digesett), have launched a plan to remove junk vehicles parked on public roads and streets in booths that occupy public spaces.
Additionally, repair shops and painting shops operating on the streets have been instructed to clean the areas they occupy. The operation has targeted areas such as Cayetano Germosén Avenue, where several vehicle repair and paint shops were occupying sidewalks and public spaces.
This action is in accordance with Article 237 of Law 63-17 on Mobility, Land Transportation, Transit, and Road Safety in the Dominican Republic, which prohibits parking or stopping vehicles on public roads in a way that obstructs free traffic or creates difficult and risky conditions for traffic flow.