Leonel Fernández assures that the crisis with Haiti must be addressed through diplomacy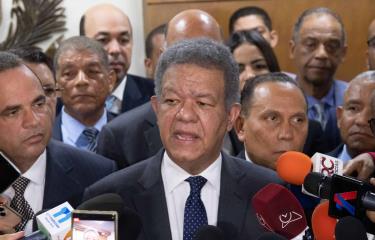 Santo Domingo.- Former President Leonel Fernández has expressed his belief that there is no need to resume dialogue regarding the Haitian crisis, as all major political parties in the Dominican Republic are united in their stance on the construction of a canal that diverts the waters of the Masacre River towards Haiti.
Fernández's statements come in response to President Luis Abinader's call for political parties to join his administration in addressing the Haitian problem and defending the nation's interests.
While Fernández supports diplomacy as the first step in addressing international conflicts, he noted that President Abinader opted for a military deployment, which he believes was done in reverse order. He suggested that the government should seek a diplomatic solution through the Organization of American States (OAS) by presenting evidence and proof of treaties signed in 1929 and 1936.
Fernández emphasized that the Dominican Republic should be recognized as a capital of peace in Latin America and the Caribbean and that the use of force should be the last option.
He expressed disagreement with the current approach, which includes the closure of the border, and suggested convening the Latin American and international communities to exert pressure on Haiti to suspend the canal construction.
Fernández also criticized the negative impact of the current approach on merchants and called for responsible leadership in addressing this important issue for the Dominican Republic, hoping that decisions made by President Abinader are not solely for electoral purposes.