Edeeste installs transformers and performs works to solve electrical problems in Boca Chica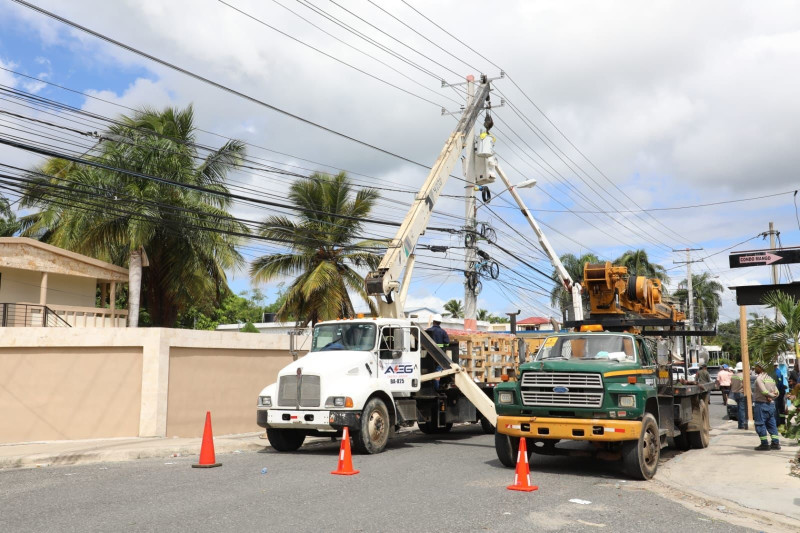 Nine basket trucks and three cranes were incorporated into the work. In addition, 25 new transformers will be installed.
Boca Chica—Empresa Distribuidora de Electricidad del Este (Edeeste) began an extensive operation to install transformers and solve the energy problems demanded by the community in the Boca Chica municipality of this province.
In quick response to the request of the leading social entities of this tourist town, the general manager of Edeeste, Manuel Mejía Naut, and the director of Distribution of the company, Príamo Féliz, went to the place with a contingent of technicians and equipment to proceed with the installation of new transformers and the repair of others, normalize medium and low voltage lines, as well as to place poles.
The work will continue in the next few days and is part of the work offensive deployed by the organization in compliance with the guidelines of the Unified Council of Electricity Distribution Companies (CUED).
Last Friday, October 20, Mejía Naut held a meeting with community leaders and businessmen of Boca Chica, where he listened to their main concerns about the service provided by the company and promised to make available the necessary resources to improve the quality of the electric supply.
The actions deployed include tree pruning and preventive maintenance of the networks to alleviate the incidents that afflict the residents of the municipality.
This Thursday, nine bucket trucks and three cranes were incorporated into the work. In addition, 25 new transformers of different capacities will be installed to divide the load and ensure that the population enjoys permanent, reliable, and quality energy.
Mejía Naut affirmed that he will not rest "until achieving the satisfaction of all our clients, who are the reason for Edeeste's existence."
The locals approached the area where the work began and were enthusiastic and grateful for the prompt response of the Distributor.