Irregularities halt Intrant's smart traffic light contract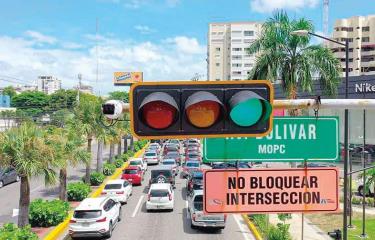 Santo Domingo.- The National Land Traffic Institute (Intrant) is facing questions and challenges regarding its bidding process for the installation of smart traffic lights in Greater Santo Domingo, which was awarded to Transcore Latam SRL but has been suspended due to irregularities by the General Directorate of Public Contracting.
During the bidding process, one of the interested parties raised 168 questions about aspects they found unclear in the tender. Some of these questions were related to technical specifications that seemed to favor a specific brand and foreign supplier, ORIUX. The bidder asked if this equipment could only be acquired from ORIUX, to which Intrant responded that it might be considered in an amendment.
Interestingly, the commercial name of ORIUX appeared in the National Intellectual Property Office's list for February 2023, with Transcore Latam SRL listed as the applicant for registration. Transcore Latam was awarded the contract despite the purchase order amounting to RD$1,200 million, whereas the procedure stated over RD$1,317 million.
Another concern raised was regarding the visual detection and traffic data collection cameras, which the bidder claimed were not specified as cameras but rather modules connected to ORIUX's traffic regulators. The bidder also questioned the quantity of cameras requested, as it exceeded the number of traffic regulators to be installed. These concerns received similar responses to the first question.
The drone service requested in the tender also raised concerns, as a specific brand and supplier were mentioned, along with a request for a demonstration with a drone costing $134,997. The bidder argued that this requirement could limit participation, to which Intrant responded that bidders should present items meeting the technical specifications.
The requirement for bidders to have a minimum experience of deploying 40,000 intersections and 15,000 controllers worldwide was questioned as excessively high. The bidder argued that this would restrict local suppliers' participation unless they partnered with foreign companies. The challenge was dismissed by Intrant.
Recently, Public Procurement suspended the contract awarded to Transcore Latam, citing discrepancies in the company's experience claims and other issues. Intrant welcomed this decision and urged Public Procurement to make a prompt decision to continue the project aimed at improving traffic and mobility.