Airport Department and International Air Rally agree to promote the arrival of Fly ins to the Dominican Republic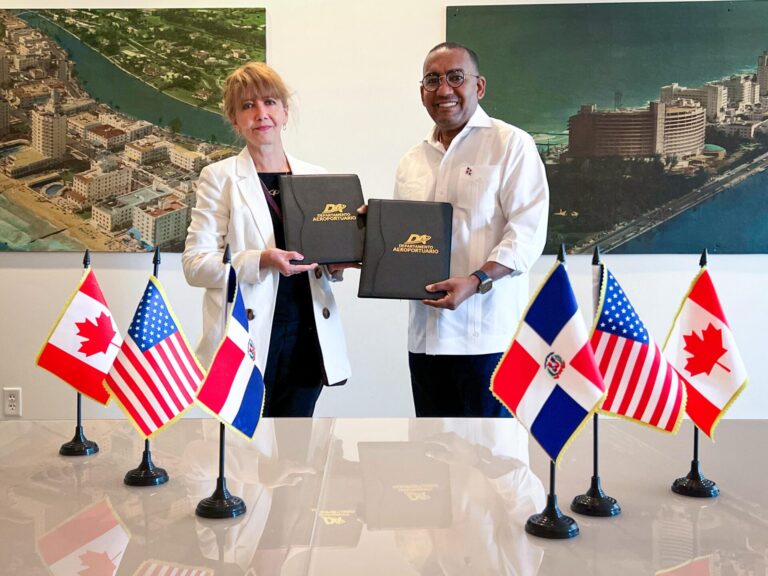 Santo Domingo.- In a significant development, the Airport Department (DA) of the Dominican Republic and the prominent Canadian organization, International Air Rally, known for its role in organizing flight events worldwide, have entered into a collaborative agreement aimed at bolstering the presence of Air Rallyes in the Dominican Republic. This partnership seeks to expand the reach of International Air Rally, encompassing a network of international and domestic airports.
The agreement was formally inked by Víctor Pichardo, the Executive Director of the DA, and Catherine Tobenas, the representative of the International Air Rally organization. The signing ceremony took place at the headquarters of the Opa Locka Executive Airport in Miami, Florida. This initiative is part of the broader strategy to position the Dominican Republic as a secure and attractive destination for general aviation in the Caribbean region, as part of the "Country Effort" project championed by the institution on the international stage.
Expressing gratitude for the collaboration, Víctor Pichardo highlighted the significance of showcasing the Dominican Republic as a welcoming and safe destination for non-commercial private aviation. He emphasized that the Dominican Airport System is well-prepared to host such aviation events.
According to the terms outlined in the agreement, the DA commits to providing the necessary support for coordinating and managing group air events to and from the Dominican Republic. This includes facilitating Air Rallyes and Fly In events by making both international and domestic aerodromes available for these gatherings. Additionally, the DA will work closely with airport operators and government agencies to ensure the smooth reception of participating aircraft, adhering to the established protocol for the management of non-commercial private aviation.
Furthermore, the DA will collaborate in the establishment of limited international operations, if required, at any chosen domestic airport for the first destination during group air events.
On the other hand, the International Air Rally pledges to actively promote the Dominican Republic as a secure and friendly destination for non-commercial private aviation. They will develop and implement a promotional strategy in conjunction with the Airport Commission. Additionally, they will coordinate the planning and execution of logistics necessary for the successful implementation of group air events to and from the Dominican Republic, which encompass activities like air rallies and Fly In gatherings.
Catherine Tobenas, representing International Air Rally, expressed her enthusiasm for the partnership, asserting that the Dominican Republic offers a plethora of attractions for American and Canadian pilots, making it an ideal destination for aviation enthusiasts.