Government extends to 2060 the Aerodom concession that expired in 2030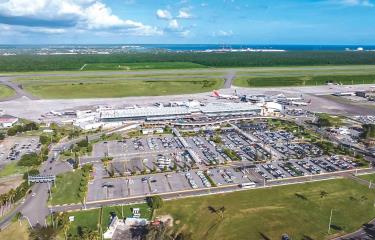 Santo Domingo.- President Luis Abinader has announced the renegotiation of the concession agreement for Aeropuertos Dominicanos Siglo XXI (Aerodom) with VINCI Airports. This renegotiation includes remuneration to the Dominican State, significant investments in airport infrastructure improvements, and an extension of the contract for an additional 30 years.
The Dominican Government initially granted the administration and operation of six airports to Aerodom in 1999, with the contract set to expire in 2030. President Abinader decided to renegotiate the terms to ensure greater benefits for the country.
Key points of the renegotiation include:
Remuneration to the State: VINCI Airports will provide an initial payment of $775 million to the country as compensation for the extended concession until 2060. These funds will be invested in public works, including road improvements in Greater Santo Domingo, construction of the San Cristóbal Traumatology Unit, the Villa Mella bridge, and sports facilities.
Infrastructure Improvements: VINCI Airports will invest $830 million in improvements across the six concession airports, with additional variable contributions estimated between $300 and $550 million.
 Terminal Improvements: Immediate investments of $16 million will be made to enhance the existing terminal at Las Américas International Airport, José Francisco Peña Gómez, due to the growing passenger flow.
 New Terminal: Design work will commence to construct a new terminal at Las Américas International Airport, which is expected to increase capacity by four million passengers annually. This project will require an investment of $250 million.
The tourism industry's robust performance and the Dominican Republic's development as a commercial center necessitate these improvements. The contract renewal will require congressional approval, and VINCI Airports has expressed its interest in a swift approval process.
The VINCI Airports company thanked the Dominican Government for extending the contract, emphasizing the importance of their partnership in managing the country's airports, including those in Santo Domingo, Puerto Plata, Barahona, Samaná, and Arroyo Barril Aerodrome. This consortium handles a significant volume of passengers and aircraft movements, connecting the Dominican Republic with numerous cities worldwide.