Disturbance will become tropical storm, says National Hurricane Center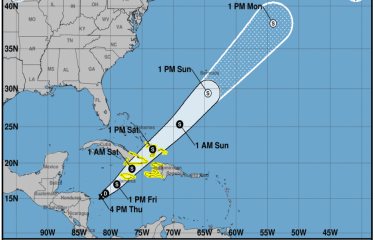 Santo Domingo.- The National Hurricane Center (NHC) has reported that the tropical disturbance in the Caribbean Sea is expected to become a tropical storm on Friday. Tropical storm warnings have been issued for parts of the Greater Antilles, the southeastern Bahamas, and the Turks and Caicos Islands.
As of 4:00 p.m., the disturbance was located 590 kilometers southwest of Kingston, Jamaica, and 185 kilometers east of Cape Gracias a Dios on the border of Nicaragua and Honduras. It is moving north-northeast at a speed of 15 km/h.
The system is expected to continue its northeastward motion, with an increase in forward speed through the weekend. The center of the system is forecast to move across Jamaica late Friday, southeastern Cuba early Saturday, and southeastern the Bahamas and Turks and Caicos Islands on Saturday.
The director of the National Meteorological Office (Onamet), Gloria Ceballos, has noted that they are closely monitoring the evolution of this large area of low pressure as it moves northeast. Significant rainfall is expected over the weekend due to this tropical disturbance.