Tropical disturbance wreaked more havoc on Monday in the Dominican Republic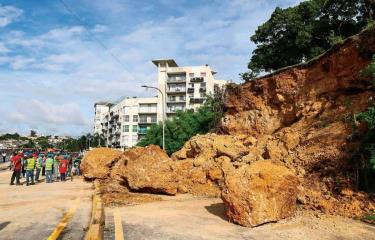 Santo Domingo.- This week, the Dominican Republic has been grappling with the aftermath of a tropical disturbance over the weekend, which led to soil saturation and river overflows in several areas. Notably, the Malecón de Santo Domingo was suggested as an alternative route by the National Institute of Land Traffic (Intrant) due to the closure of the 27 de Febrero tunnel at Máximo Gómez. However, a cliff collapse near the Floating Bridge over the Ozama River early on Monday forced the closure of this section as well. This incident occurred on George Washington Avenue, close to Johnny Pacheco Boulevard, but fortunately did not result in any injuries.
In El Seibo province, the situation was dire, with multiple bridges collapsing due to the heavy rains and pre-existing deterioration. Bridges in towns like Las Cuchillas, Sabana de Pedro Sánchez, Marmolejos, La Higüera, Arroyo Grande, El Cuey, and the one connecting El Bejucal and Palma de Gallo in San Francisco Vicentillo were affected. Many of these bridges, built decades ago, are in urgent need of intervention by authorities. As a result, numerous communities are now isolated.
In Azua, particularly in the Guayabal municipality, the tropical disturbance has caused significant damage. Two bridges collapsed and river flooding has cut off two communities since Friday. Tragically, a 25-year-old man was swept away by the Las Cuevas River in Guayabal while trying to cross between communities. His body was recovered on Sunday, November 19. These events highlight the urgent need for infrastructural attention and disaster response in the affected areas.