TSA highlights security at Cibao and Puerto Plata airports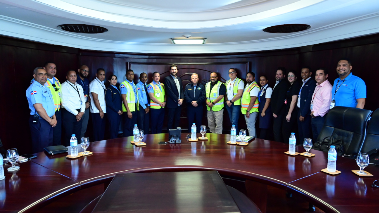 Santo Domingo.- The Transportation Security Administration (TSA) of the United States recently conducted a thorough security inspection at two airports in the Dominican Republic: Cibao Airport in Santiago and Gregorio Luperón Airport in Puerto Plata. Their preliminary report commended the robustness of security measures at these airports, confirming their compliance with the regulations set by the International Civil Aviation Organization (ICAO).
The inspection, carried out from November 12 to 16, 2023, focused on verifying adherence to standards and methods outlined in Annex 17 of Aviation Safety, the National Civil Aviation Security Program (PNSAC), and other requisite documents. Inspectors scrutinized procedures for handling passengers, their carry-on and checked luggage, from check-in to boarding, as well as air cargo protocols.
Brigadier General Floreal Suárez Martínez, FARD, along with representatives of the aircraft operators and administrations of the airports, attended the presentation of the inspection results. Suárez Martínez noted the significance of this joint effort between the United States and the Dominican Republic, through the TSA and Cesac, highlighting their commitment to maintaining the integrity and efficiency of airport security and the collaboration of various public and private entities in the aviation industry.