Arajet makes history: first commercial flight to be launched in Barranquilla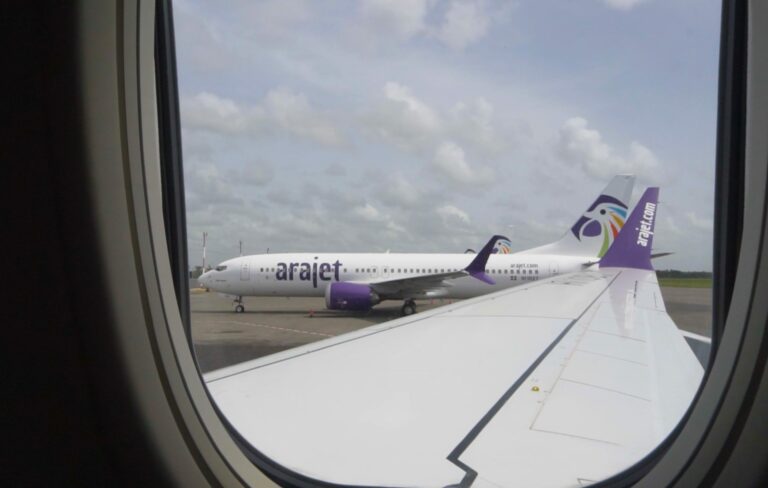 The Dominican low-cost airline Arajet announced the start of its operations with direct flights connecting Santo Domingo with the Colombian cities of Barranquilla and Cali, to which other routes will be added soon.
The first commercial flight in the company's history, which departed from Las Americas International Airport (AILA), landed at Ernesto Cortissoz Airport in Barranquilla, the main city of the Colombian Caribbean, and later at Alfonso Bonilla Aragon, in Cali, the largest city in the southwest, according to a press release from the airline.
"Arajet will also add the historic and emblematic city of Cartagena to its route network on September 18, and later on, Bogotá and Medellín. With these operations Arajet expects to serve five strategic cities in the country directly with Santo Domingo in the coming months," they add.
Arajet's president, Víctor Pacheco Méndez, said that the airline's arrival in Colombia seeks to "strengthen commercial, tourism and cultural ties, as well as to promote economic development opportunities between the two countries."
"International tourism in Colombia is going through a great moment and the arrival of new international airlines to the country is an indicator of confidence and positioning of our destinations, as well as the attributes associated with nature, culture and biodiversity," said Gilberto Salcedo, vice-president of Tourism of the state agency ProColombia.
Arajet, which has a fleet of five state-of-the-art Boeing 737 MAX-8 aircraft configured for 185 passengers, expects to reach 20 destinations in 12 countries in the coming months, the information added.
According to the company, in the next few days, it will add new destinations in Peru, Mexico, Salvador, Aruba, St. Maarten, and Guatemala, as well as Toronto and Montreal (Canada).