Employers call labor's proposed 30% wage hike a 'ploy'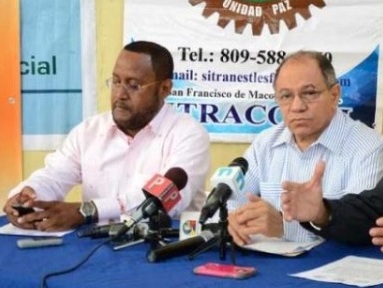 J. Ramos, left.
Santo Domingo.- The major labor unions on Thurs. reiterated their proposed 30% increase in the minimum salary of non-sectorized workers during the first meeting called by the National Wages Committee.
The president of Dominican employers grouped in Copardom, Juan Alfredo de la Cruz, labeled the proposal as a ploy, and requested time to analyze it. He agreed to return to the talks on March 25.
De la Cruz noted that although Central Banker Hector Valdez Albizu urged to increase salaries, he didn't specify 30% adding that inflation is lower than that amount, so they must evaluate it.
In that regard, CNTD union leader Jacobo Ramos, proposed eliminating the 17 wage rates of the various sectors.
"It's deplorable that employers to evade their responsibility at the table of dialogue (propose) the reclassification of companies to boycott the wage increase that their employees deserve, while in two years that should have done these studies, were forgotten as a way to delay the discussions of the salary increase."
He added that Valdez Albizu, has stated that economic growth should be distributed among the poorest, and increase the wages to private and public sector workers.