Looking for DR to increase trade with Puerto Rico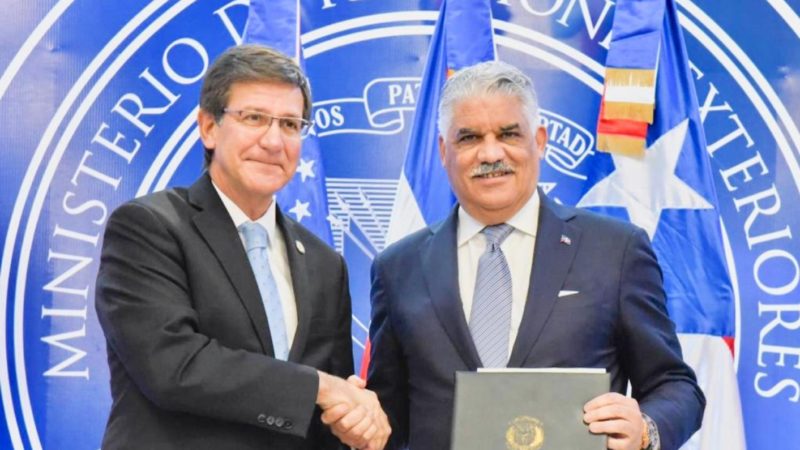 Dominican Foreign Minister Miguel Vargas Maldonado, and the Secretary of State of Puerto Rico, Luis Rivera Marín, signed two memorandums of understanding yesterday to increase exports and take advantage of trade and investment for the benefit of both economies.
Last year, the country exported US $ 974 million to Puerto Rico, which represented an increase of 30% in relation to 2017, to become the third most significant commercial partner of the Dominican Republic.
Meanwhile, imports from Puerto Rico totaled US $ 685 million, which means that the country registered a surplus of US $ 289 million.
The foreign minister said that last year the country received 105,000 Puerto Rican tourists, a significant figure, taking into account the population of that island.
The first document creates a Council for the Joint Attraction of Investments, Promotion of Projects and Exports of the Dominican Republic-Puerto Rico, to encourage the integration of policies to attract investment in strategic sectors.
The second memorandum establishes cooperation and joint participation in the programs of the United States government to encourage the growth of export flows from the parties to the United States.
Rivera Marin said that the increase in trade between both countries shows that the strategies of the last two years have paid off and will continue to bring prosperity to both island nations.
He considered that Puerto Rico and the country should join efforts in tourism, manufacturing, and agriculture, to bring sustained economic growth.
"We are emphasizing collaboration, without losing sight of the fact that we are part of the United States," said Rivera Marín, who then gave Foreign Minister Vargas a copy of Governor Ricardo Roselló's proclamation, which states he is grateful for the cooperation given to Puerto Rico, after the damage caused by Hurricane Maria in 2017. An act celebrated in the Chancellery.
Opportunities
Foreign Minister Miguel Vargas Maldonado said that one of the two memoranda signed yesterday can generate joint opportunities for the use of purchases made by the federal government of the United States. The US represents "a market of hundreds of billions of dollars, to which the Dominican Republic has preferential access under the DR-Cafta, but it is an access of which has not yet used at full advantage." That is due, he said, to the lack of knowledge of the requirements and requirements of DR-Cafta to access that market.