Digesett agent points his gun at a citizen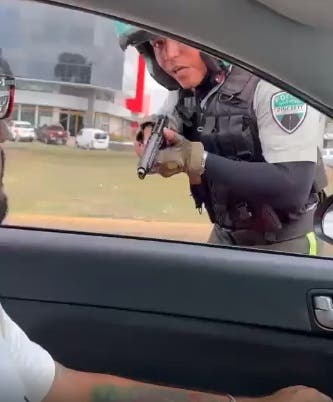 At the point of his regulation weapon, an agent of the General Directorate of Security of Transit and Land Transportation (Digesett) pulled out of his vehicle a citizen traveling on John F. Kennedy Avenue, near Abraham Lincoln Avenue.
The officer's actions were captured in a video circulating on social networks, where it can be seen how he points his gun at the young man, who a woman accompanied.
"I don't even have a vehicle:" Phantom fines by Digesett?
The officer allegedly took out his gun to ask the driver of the KIA car to hand over a pistol he was carrying, as well as its documentation.
According to information obtained, the agent proceeded to the boarding after the man committed an alleged violation of article 221 of law 63-17, which states: "drivers who are distracted by the use of cell phones or other electronic devices while driving, or by activities that prevent them from keeping their hands on the steering wheel, will be sanctioned."
The man was inspected, and his car was taken to the main base to the legal department for the corresponding purposes, although it was not specified why it was taken.
When writing, the General Directorate of Transit Safety and Land Transportation (Digesett) had not commented on the incident.