Government reduces funding to the dermatological branch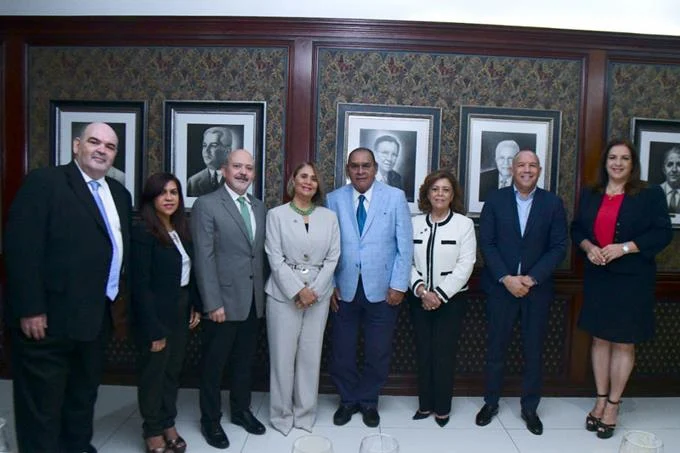 Dr. Víctor Pou, director of the Dermatological Institute, together with Emma Guzmán, Luisa González de Bogaert, Vicente Ruiz and Juan Periche, talk with the director of Listín Diario, Miguel Franjul, and the journalist Doris Pantaleón.
Santo Domingo, DR
The Instituto Dermatológico Dominicano y Cirugía de Piel "Dr. Huberto Bogaert Díaz" has reduced at least seven million pesos in the last two years in the budget allocation or subsidy granted by the State to that institution, which puts pressure on the development of its social programs.
In 2020, the institution received a state subsidy of 27 million pesos, which was reduced to 24 million 500 thousand pesos in 2021. In 2022, the amount allocated by the State to the institution was 19 million 600 thousand pesos.
This, according to the details of the institute's directors, represents a reduction of about seven million pesos in the last two years, which puts pressure on the programs and impacts the health system, and becomes a challenge to maintain the results that the country exhibits in terms of prevention and control of leprosy and other skin diseases.
The director of the Dermatological Institute, Victor Pou, and the financial, and administrative director, José Vicente Ruíz, spoke about this issue when they participated in the Listín Diario Breakfast.
They pointed out that this decrease means that the institute will have to pay for it with its resources so as not to affect the coverage of the programs, especially that of the fight against leprosy, which is in its 59th year of existence.
They explained that from 2019 to date, the institute had allocated 42 million pesos to direct coverage of treatments and services to low-income patients, which directly impacts the out-of-pocket spending of families.
They emphasized that 96% of the institution's income is captured from its sources and that to the subsidized regime of the National Health Insurance, the institution bills about 50 million pesos.