Only 88 new covid-19 infections; positivity 22%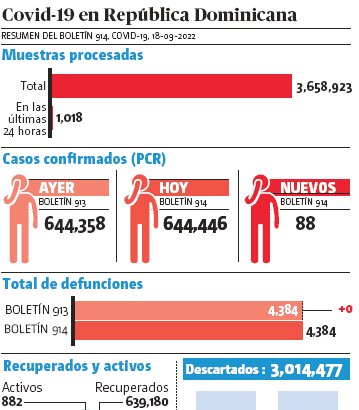 The number of covid-19 infections was only 88 cases in the last report from the authorities, but the daily positivity is 22.28%.
In the last hours, 1,018 tests were processed, of which 395 were first-time tests and 623 were follow-up tests.
There are 882 active cases out of the 644,446 registered so far in the pandemic. Only 27 persons are admitted with covid-19, and two are in intensive care units. There are no people on ventilators.
The bulletin indicates that the daily positivity stands at 22.28% in the last four weeks at 5.10%. Meanwhile, the case fatality rate is 0.68%, and mortality per million inhabitants is 419.58.
Although the latest strains are more contagious, they are also much less severe.
About the Hospital Network
Of the 2,373 COVID beds available, 27 are occupied, for 1.1 percent, while the number of Intensive Care Unit (ICU) beds available is 585, of which two are occupied, representing 0.3 percent. Meanwhile, out of 469 ventilators in the system, none are occupied.