Tropical depression causes alerts in National District and 27 provinces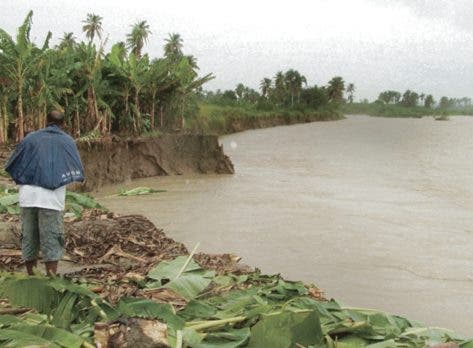 River flood in Tamayo.
The tropical depression affecting the national territory, especially in the South and Southeast regions of the country, caused the Emergency Operations Center (COE) to increase yesterday the alert levels to 28 provinces, 18 of which are in yellow and the other ten in green.
That is why the National District and the provinces of Santo Domingo, Pedernales, San Juan, Barahona, Azua, San José de Ocoa, Peravia, and San Cristóbal are on yellow alert, as are La Vega, Duarte, María Trinidad Sánchez, Samaná, San Pedro de Macorís, Hato Mayor, El Seibo, La Romana and La Altagracia.
Meanwhile, Monte Cristi, Santiago Rodríguez, Valverde, Puerto Plata, Santiago, Espaillat, and Hermanas Mirabal are on green alert, as are Sánchez Ramírez, Monseñor Nouel, and Monte Plata.
possible flooding
The COE calls to be alert for possible flooding of rivers, streams, creeks, and urban, rural, and flash floods and landslides.
People sheltered
In its latest bulletin, the COE reported that 47 people are still sheltered, two communities are cut off, and 53 aqueducts are out of service, which means that 944,715 users are without drinking water.
On the other hand, the emergency agency indicated that 72 branches of electrical circuits are still out of service, leaving 109,669 households without electricity.
It added that 30 bridges had been affected, three of them collapsed, and that the highways, streets, and roads that have been damaged total 42, of which four have been recovered.
Follow the guidelines
The COE recommends that the population follow the guidelines and orientations of the civil protection organizations, the bulletins of the National Meteorological Office, and the warnings and orientations issued by the authorities.