Cholera under control in Villa Liberación; more than 2,800 have been vaccinated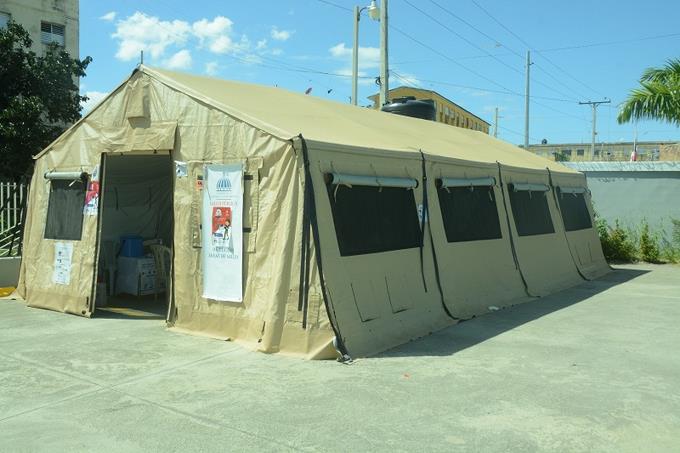 Diagnostic Tent. Photo: Leonel MATOS / RD
Santo Domingo, DR
In Villa Liberación del Almirante in Santo Domingo East, cholera is "under control" after the area became a focus of concentration of the disease. At the same time, the residents of the crowded sector have heeded the call of the health authorities to be immunized against the disease, registering at least 2,804 people who received the dose.
Of the people inoculated, 1,825 were students of the neighboring schools. In contrast, the rest were inoculated at the Diagnostic Tent, vaccination posts in the Almirante, house-to-house campaigns, and the health area of the district.
Rafael Güichardo, risk manager of this health area, highlighted the municipalities' receptiveness to oral vaccination at the health posts and house-to-house campaigns.
"They have grasped the message we have for them to get vaccinated, because it is really for their own health," he said.
Güichardo also highlighted that in the last few days, even though they continue to attend to people in the tent, no people have come with characteristic cholera symptoms such as dehydration, vomiting, and diarrhea.
"Patients come with different pathologies, such as headaches and different pathologies, but we are not really receiving patients with suspected cholera symptoms," he added.
An average of four people come to the tent every day.
The service remains stable regarding the drinking water supplied by the Santo Domingo Aqueduct and Sewerage Corporation (CAASD) in the water tank in the diagnostic tent located in the Diagnostic and Primary Attention Center of the sector with the assistance of tanker trucks on a daily basis.
In addition, community members are supplied with kits containing, among other things, hand sanitizers and chlorine.
Residents follow protocols
For their part, the residents stated that they follow the hygiene protocols to avoid future contagions, such is the case of María de los Santos, who confessed to having been vaccinated and also to washing the food properly, as well as to close the garbage bags tightly until the garbage collection trucks come to pick up the garbage.