Mirador de Los Girasoles neighborhood has been without water for a month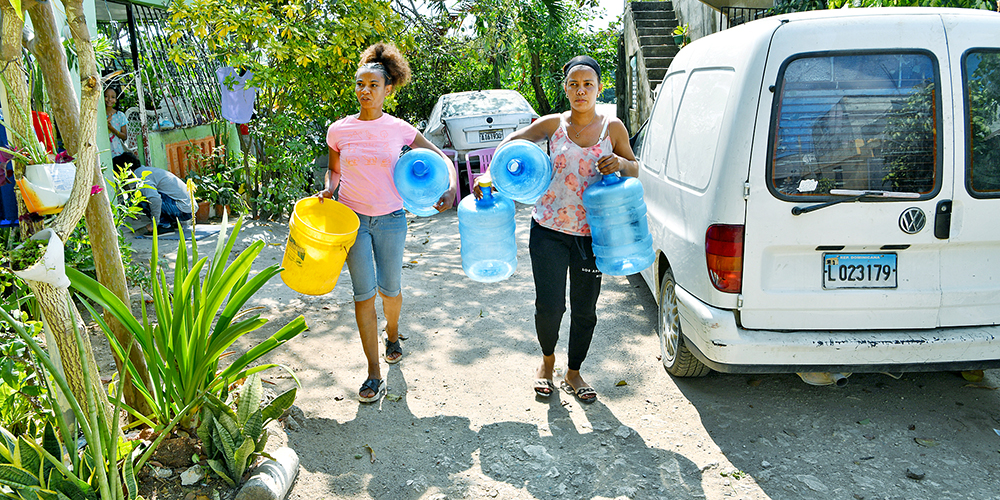 The shortage of drinking water continues to affect dozens of neighborhoods in Greater Santo Domingo, among which is the Mirador de Los Girasoles sector, where housewives stated that they have not received water for more than a month. They asked the authorities of the Santo Domingo Aqueduct and Sewerage Corporation (CAASD) to come to their aid with free water trucks. They affirmed that they do not have the financial resources to buy a water truck for 1,800 pesos every week. "I have not bathed today and I have not seen water in my house for three weeks. The neighbors sometimes give me a couple of gallons of water, but now they don't have any," said Mary Ali, a housewife from Los Girasoles.
Several women waited, buckets in hand, near Avenida Monumental, for the passing of some of the CAASD trucks to see if they were lucky and gave them a few gallons of water. "If the authorities don't help us, we could paralyze traffic on Monumental Avenue," said Aury Rojas. Luisa Mejía, a resident of the place, stated that for more than a month, the water has arrived in some places, but only for a very short time. She denounced that the dust from the unpaved streets and the scarcity of water have combined to affect the health of the residents.
Joaquina Pérez, who has a small grocery store in the area, claims that from time to time she has had to close her business to go out to the avenue to ask for water in some of the commercial establishments on that road. "On this side, the CAASD has hardly sent trucks of free water, we hope they come because we are desperate in this sector," said Pérez.