Nearly 20k tourist arrive in 5 different cruiseships simultaneously in Puerto Plata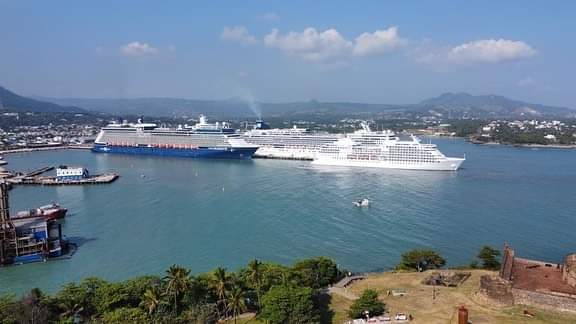 A total of 5 cruise ships arrived simultaneously in San Felipe de Puerto Plata, bringing on board almost 20,000 tourists, which marks a milestone in the history of the local cruise industry. The North regional director of the Ministry of Tourism, Carlos Atahualpa Paulino, explained that 19,883 cruise passengers arrived in Puerto Plata this Wednesday, March 15, upon receiving 5 cruise ships, 2 through the Amber Cove terminal and 3 through the Taíno Bay port. The ships that arrived at "The Bride of the Atlantic" were: Celebrity Silhouette, Seven Seas Navigator, and Norwegian Pearl that anchored at the Taíno Bay terminal, while the cruise ships: Carnival Mardi Gras and Rotterdam touched at the Amber Cove port.
"We are happy to receive more than 5,600 passengers and approximately 2,700 crew members in our port. 3 ships docked simultaneously, which represents more than 8,000 visitors," says a brief statement from the ITM Group company published on its Instagram account: @tainobaysocial. It was observed that a large number of tourists who disembarked from the majestic cruise ships went out to tour the city, visiting different attractions and places where they were received with great hospitality by the guides and merchants.
The economic dynamism has been very active, as has the circulation of taxis and tourist buses, due to the excursions organized by tour operators that take tourists to beaches, museums, shops, and other places that are frequented in Puerto Plata. Likewise, the strict security that is guaranteed to visitors by the Tourist Police (POLITUR), as well as agents of the National Police and the General Directorate of Land Traffic Safety (DIGESETT), in addition to soldiers attached to the Air Base, is highlighted.