ISLA Academy celebrates graduates of Liceo Cientifico, first STEM + Magnet School in the country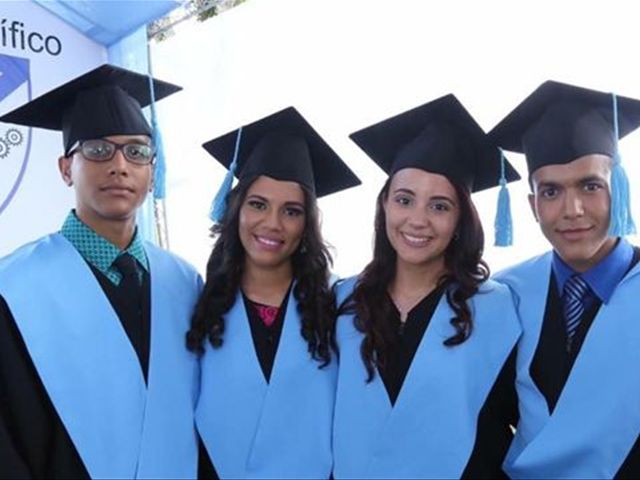 ISLA Academy congratulates the founding class graduates ofLiceo Cientifico, the first STEM + Green Magnet School in Dominican Republic.ISLA Academy Founder/Director Sean Bennett played an integral role in thedevelopment of Liceo Cientifico's academic curriculum, and served as HeadEnglish Teacher for two years, prior to founding ISLA Academy, located inCabarete-Sosua, in 2015.
President of the Dominican Republic, Danilo Medina attendedlast weekend's graduation ceremony at Liceo Científico, which is the firstschool in the Dominican Republic to specialize in Science, Technology,Engineering and Mathematics for gifted and talented students.
Many of Liceo Cientifico's students excelled with highhonors, and received full scholarships to colleges in the United States, andprominent universities in the Dominican Republic. Honor students includedMarianny Vasquez Reyes, Jose Alfonso Diaz Polanco, Antonio Alberto Muñoz andDiana Hernandez, all scoring over a 96 grade-point average. Mr. Bennett'sformer students from Liceo Cientifico participated in ISLA Academy's firstSummer Camp in 2015, and were a wonderful addition to campus life.
"My experience at Liceo Cientifico proved to me thatthe Dominican Republic was ready for a 21st century model of education" statedSean Bennett. Bennett brings many years of experience in teaching anddeveloping schools in the US, Asia, the Dominican Republic, and Africa."There was no better introduction to the culture and people of theDominican Republic than to spend two years with some of the best and brightestthat this country, and in fact this world, has to offer" Mr. Bennett saidof his time at Liceo Cientifico.
ISLA Academy is a unique newcomer to the current offeringsof private, international schools available in the Dominican Republic. It isthe only learning institution in the area using an inquiry-based method ofteaching.
Located in Cabarete-Sosua, on the north coast of theDominican Republic, ISLA Academy offers a high-quality, rigorous andpersonalized curriculum taught primarily in English. ISLA Academy has a campusthat includes indoor-outdoor facilities, a swimming pool and is within walkingdistance to the beach. The perfect setting for young people to explore,discover and learn.
"So much of what we do at ISLA Academy is inspired byLiceo Cientifico, from the hands-on integrated learning, to the focus onoutdoor education, to the philosophy that students should have a say in thedevelopment of their own education", said Mr. Bennett.
ISLA Academy programs are available for students of allages (2-18) during the academic year. Classes begin August 29th, 2016.http://islaacademy.com