Alessandra Melendez Berry wins Best Face in the World
Scottish Dominican model Alessandra Melendez Berry was chosen as the Best Face in the world at the Best Model of The World 2022 pageant that was held this past December 16 in Istanbul, Turkey. She won the honor from a selection of models from 45 other countries. The model also qualified in the Top 4 of the best traditional costumes wearing a design by the stellar Dominican designer Giannina Azar inspired by the Taino Indians.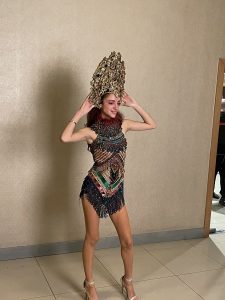 The selection was made by a group of judges made up of designers, modeling agencies and the pageant's directors. Jason Cabral, National Director of Producciones Jamicabe el Imperio de La Belleza, said he felt "very proud of Alessandra's representation. Being named the Best Face in the World 2022 is a great honor and makes history. Our organization has been sending participants to this world modeling competition in Europe for over 25 years, and we have received several titles, but this is the first time in history that the Dominican Republic has received "Best Face in The World."
Best Model of the World celebrates 35 years. The main titles this year were won by Belgium in the men's pageant and Turkey took the crown in the women's division. Erkan Ozerman, the event founder, states that this is the first organization created to determine competency amongst models and introduce talent to haute couture and fashion houses. The pageant aired on all the top channels in Europe, including NR1 Number one TV, Genc TV, Cyprus Turkish Republic, and Nova TV in Bulgaria. Alessandra won a representation contract as a Top Model in Europe and has plans to continue building her career while continuing to pursue her studies at the International Fashion Academy in Paris.